Society
"My mom called me a sick monster"
Eighteen-year-old Yana arrived in Irkutsk from Novosibirsk, taking with her bare essentials: a backpack with black clothes, a graphics tablet with drawings and some money. In Novosibirsk, she still has her mother and grandmother. They call from time to time to find out how their son is doing.
Yana is transgender. According to her passport, this fragile teenager's name is Andrei. Parents did not accept the new name and the way of thinking, and Yana went to live with a friend in Irkutsk to take a break and then solve her problems on her own.
"I was born and raised in Novosibirsk. My mom was 16-years-old when she gave birth to me. She was very young. My father left her with a child to raise alone. I do not know him and, in fact, I do not want to. I was brought up alternately by my mom and my grandma. My grandma is a music teacher, she taught me to play the synthesizer and guitar. Music classes gave me one the best memories of my childhood. At fourteen, I picked out the Moonlight Sonata.
Mom undertook different jobs. Once she even opened a pet store. I haven't had any proper relationship with her. She cared about her private life, having got married again and again. I liked to play alone and we had lots of leftover toys from my aunts and second cousins. I played with LEGO sets, dolls, and worked in the store with my mother.
I made some friends at thirteen and this made me a little happier. There were homosexual people among them, so I was more comfortable. There I met a girl and lost my virginity to her. And after, I realized that what I felt had nothing to do with the stories of other boys. I liked talking to girls and touching them, but after the physiological sex, there was a feeling of dirt. As if I wiped myself with a living person. At school, there was a boy, my desk mate. We were hanging out at his place until the night, and I was always afraid that he would guess that something was wrong with me.
In 2015, my group of friends fell apart, and the friend left me. I had no one to talk to, and everyone around felt like a stranger. I tried to communicate with others through social networks. I was chatting with girls from different cities.
I understood that something was wrong with me at the age of thirteen. I accepted that I liked things that were sweet, soft, warm, and essentially, feminine. I do not know whether my relatives noticed what was happening to me. But they often asked me: why do you act like a girl, why have you snivelled, why do you need long hair? I dreamed about long hair since childhood, but I was forced to cut it. I listened attentively to everyone and continued to grow lonely without any help.
"I accepted that I liked things that were sweet, soft, warm, and essentially, feminine"
But my mother's life was notably varied. I understand now that all these years we were hurting and preventing each other from living. Mom had a lot of men, I didn't have anyone, but we were both lonely. After divorces, my mother began a so-called "open relationship". I knew about it, but I tried not to pay attention to it, so I turned a blind eye to defiant messages in her phone. But, I am sure, I am guilty of two of her divorces. It seemed to me that I was receiving little attention, so I was tormenting my mother and her men. I was reviewing my mother's photos recently and noticed how beautiful and happy she was when she loved.
At fifteen, I told my grandmother that I wanted a sex change. Grandma became goggle-eyed and began to ask in fear: what, when, why. However, she always treated me with more warmth than my mother, so she let this go. And then a terrible thing happened.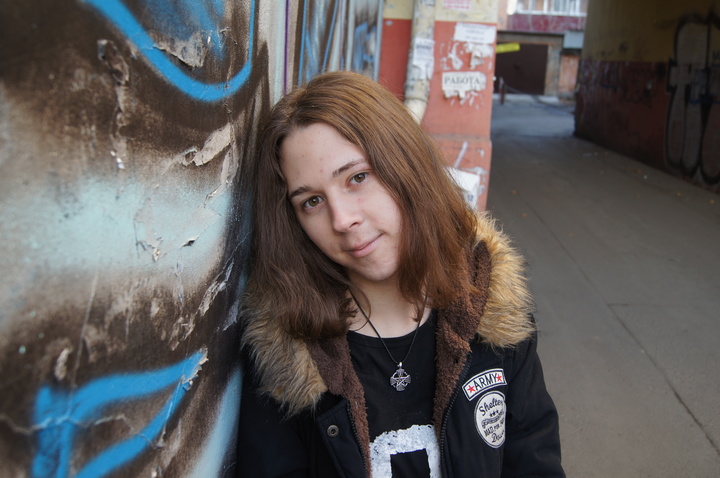 I lived alternately with my mother and grandmother. In the summer, when I was in the cottage with my mother, she and her friend found some women's clothes in my room. Mom was a very fashionable woman and she often forgot about some new clothes. I took and tried them on occasionally. In life, I am dumpy and plain-looking. Alone with myself, I always liked spectacular women's clothing. But it is scary to show up wearing it in public. So found a compromise. Gender neutral clothing does not commit you to anything. Black colour hides from prying eyes.
Mom and her friend — a complete stranger to me — gave me a lecture that I was a sick monster. And they made something like a corrective colony for teenage children for me. With the only difference that I did not kill anyone or steal anything.
My body has resisted masculinity since my childhood. The body does not stand intense physical exertion, heat, and stuffiness. They put me through a real Sparta. Mom left me in a private house for the whole summer, forced me to bathe in the bath-house. I went to the forest with a heavy cart for firewood at +30 degrees Celsius. I was physically hurt, I cried a lot, but my mother thought that she was raising me to be a man.
At this point, my attempts to open up to the family died down, and I decided to see a specialist. The psychologist of the college I enrolled in sent me to the geneticist Lisichenko. She is a member of the Novosibirsk Commission for the Diagnosis of Transgenderism. I spent a long time getting ready for an appointment, but Lisichenko, glancing at me, pointed to the door. For a transgender, I was not convincing enough. The doctor stated that a transgender girl could not wear army boots, short hair, and baggy pants. "You're an adult, you're a guy!" — Lisichenko laughed. It is important to mention that that year my parents finally exhausted me, so I disguised myself in metal and leather.
I was given a chance and sent to a sexologist. Having passed the examination, I received a conclusion from the experts — "depression in the advanced stage".
And then my problems with the military enlistment office began. According to my passport, I am a boy and I am a citizen of my homeland. And under the Constitution, I must serve mandatory military service. To avoid it, I should go through a medical examination in St.Petersburg, with a doctor by the name of Isaev. The examination committee includes several doctors: an endocrinologist, a sexologist, a geneticist, a psychotherapist. They conduct an examination and issue a certificate of sexual identity disorder No.F64. The certificate is useful: it helps when you want to start hormone therapy, to change the physiological gender. And provides an exemption from military service.
"In my childhood, I often heard that I should not be a girl. But I allowed myself that."
I found people who helped me — Kim and Ali. They used to live in St. Petersburg, and now they live in Germany. I am taking a drug that blocks testosterone production. I can not take estrogen yet — I have to get tested and provide myself with a sufficient amount of the drug so as not to interrupt the course. A break in the course of estrogen may entail complications for the body.
Sometimes I speak with my relatives by phone. Grandma does not shout and tries to accept me. Mom, during the last conversation, said that she does not want to know anything about transgender people.
I have no boyfriend or girlfriend. At the age of 13, I was dating a girl like a boy, but it was strange. Later I met some girls, but I can't say exactly what my orientation is. I just wanted to fill the emptiness in my heart, and I needed a person who could support and calm me. Basically, I do not like guys. They don't care about girlish problems. Now I draw a lot and enjoy the changes in my body. Drugs block testosterone and I can vent my feelings. In my childhood, I often heard that I should not be a girl. But I allowed myself that."