Society
"We opened on the crest of homophobic propaganda": How a gay club lives beyond the Arctic circle
Sergei Alekseenko walks hand in hand with his husband in the lead of the Barents-pride column. The husband now is in his stage image: wearing tremendous stiletto heels, a wig and put on breasts — the drag queen Melony Long. In real life, his name is Sergei as well. The men have registered their marriage in New York and got acquainted on the scene when Sergei-Melony came to Murmansk on tour. Alekseenko owns the only gay club in Murmansk, he's openly gay and is the head of the local initiative group 'Maximum' protecting LGBTQI rights.
Maximum's formal existence (as a non-profit) came to an end in March 2015, after the law on 'foreign agents' was adopted. But, as an initiative group, it has organised two proper prides since then and carries on with protecting human rights and helping people. The next year after Maximum was closed, Sergei was fined under the article 'on propaganda' for reposting an excerpt from the protocol drawn up by Federal Service for Supervision of Communications, Information Technology and Mass Media (Roskomnadzor) and a poem by Lermontov.
— I've had the idea of opening a gay club roughly since 2011", recalls Alekseenko. "There was one more public house of that sort, but it was second grade: with bad service and low-quality alcohol. The owners' position was like 'we are the only club in the region, there's not much of a choice, so they'll come anyway.' And I wanted to open a place where it would've been possible not only to come with friends, but to chill out and spend time pleasantly. We didn't have any competition with that club. They closed the day we opened.
We are talking in the unlit club, there are a couple more hours before the club opens: Town Hill works only at night. That's why in 2015 just before the club's opening, Sergei was confused, when the locals were rebelling against the "sin's keep" being located near a school and a kindergarten. How can the entity that's open at such unchildlike hours affect teenagers' minds?
— Even if we worked during the day, we're strictly 18+, says Sergei. — We always check the IDs. If one refuses to show their passport, he or she is not allowed to enter. I like the way it works in the USA: people regardless of their age go to bars with ID. Because, no matter if you are 21 or 71, you are not allowed to enter without the ID.
"We opened on the crest of homophobic propaganda. And although officially we aren't called a 'gay club', just a nightclub, the label stuck firmly"
Town Hill got bustling advertising for free just before its opening. With a minus sign though. Some people spread the leaflets across the locals' postboxes, urging on behalf of the real owners. The leaflets invited 'to bring all members together in the new gay club'. There was such a public stir that the prosecutor's office wanted to intervene. Not to find the anonyms though, but to check Alekseenko's business. And Sergei had to put off the opening date due to safety reasons. On the suggested opening date that was mentioned in the leaflets, some masked thugs threw stones through the club's windows. Predictably, the policemen who were on patrol in front of the club didn't catch anyone.
— We opened on the crest of homophobic propaganda", recalls Sergei. "And although officially we aren't called a 'gay club', just a nightclub, the label stuck firmly. So I guess even if we move, the landlord wouldn't be able to find a new tenant.
— Who are your guests?
— Both gay and straight people come here in almost equal proportions. There's one rule for everyone: no discrimination, violence or insults. The breachers are asked to leave the club or are put to the blacklist. We have a lot of visitors of different orientation nowadays. Girls come to a place where they wouldn't meet thuggish guys, I mean the men who come to clubs just to have a one-night stand. People like the atmosphere and shows, people come to rest.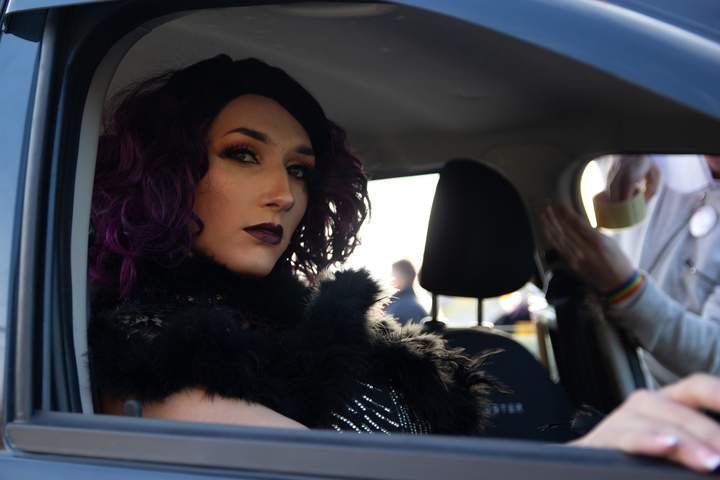 The only drag show in the region is here, at Town Hill. 6 years ago it was possible to watch such a show at any nightclub or office party. Even in the Closed Administrative-Territorial Units, which are purely military cities with a specific atmosphere. Everything came to an end overnight when homophobic propaganda started flourishing on TV screens.
"Roughly ten years ago, I got acquainted with a guy at a club. We were sitting and kissing, people were interested for like the first five seconds. And no one pointed fingers. We would've been kicked out of a place nowadays, I'm afraid"
— People are afraid of inviting drag actors nowadays, to avoid complaints and not to repel the public," Sergei says, sharing his thoughts. "Half of the restaurants in Murmansk have recently closed, and the remaining don't get enough clients. Ten years ago there were 15 clubs, so stuffed on weekends that people queued on the streets. There are 5 of them nowadays, including ours. Folks are few. The owners are afraid of repelling people, and for many of them, drag artist automatically means a homosexual and a paedophile on top of that. I recall how, like ten years ago, I got acquainted with a guy at the bar counter of a popular club. And at another one, we were sitting and kissing and people were interested for like the first five seconds. And no one pointed fingers. We would've been kicked out of a place nowadays, I'm afraid" I am not sure, but I wouldn't dare test it myself. The situation on the streets has worsened as well. Before, kissing or holding hands could have provoked an assault. Today it is enough just to be dressed in a 'wrong' way.
There is face control at Town Hill. It helps to maintain the safety of the guests. Aggressive people try to get in now and then, though."
— Sometimes obviously suspicious people who ring the doorbell. Then we tell that bar is closed for a private party. If you're on the list you may come in, but you must give your names. Of course, there is no list, but by their reaction, it is clear if they're our type of visitors or not. Homophobes last for one-two phrases, then they start being rude, giggling...
— Are you in a no-photo mode?
— No. It is impossible to control it, there's a camera in every corner nowadays. And besides, forbidden fruit tastes the sweetest. When our photographer works at a party, we ask guests to warn him if they don't want to be in the pics in our closed group. However, I have no idea how our white painted brick walls are different from the walls of any other club. People should create safety themselves. Reposting photos and tagging people on the pictures is more dangerous than a photographer by himself.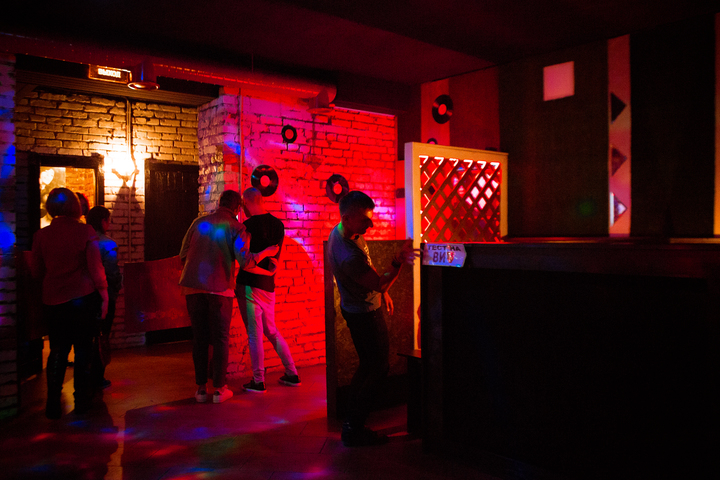 — No dark room, is there?
— And never was. I have been to clubs in different cities and countries, and let me tell you. There's no need for a dark room in a small city. Blind acquaintances work in big cities, but not in Murmansk. Even a gay sauna went bust here. Everyone knows each other here. But the bowl with free condoms is always on the bar counter. Sometimes it goes empty in an hour, sometimes it takes an evening for it to go empty. Somebody stores them, somebody takes as many as they need. It is always free because it is a question of our social responsibility. And so is testing.
— Do many do tests?
— It was a furore the first time we conducted express-testing. 52 people took part, considering that our capacity is limited to 80. The guests like that they could check their status every 3-6 months in a place they are used to, in a friendly environment. Outreachers, in turn, like that they do not need to look for people, their target audience is already here. It doesn't take much time. Guys usually work here for about two hours, from 23:00 till 01:00. Then people get drunk, and it becomes pointless. People like that tests are regular and anonymous. Many are too lazy to go to a medical centre to do the tests. After the local AIDS medical centre joined the dermatology and venereologic centre, it is impossible to get there on weekdays, and people don't want to bother with that on weekends. Besides, anonymity is under question there. Last year I decided to check how it works there myself. I ended up with a sign 'code 103' on my documents, and the nurse at the laboratory already knew that I was homosexual... The test, including paperwork, takes thirty minutes, and the road takes an hour. The doctors from the old AIDS medical centre once conducted a 'field' consultation at our club. Two years ago I requested that the new Chief Medical Officer repeat it. They made it clear that they weren't going to clubs because they were not interested. Like, those who need it come to the medical centre themselves. And when I see broadcasts about the doctors from the STI clinics going to a college or kindergarten to do tests, I laugh through tears. It's, of course, easier to go to a kindergarten. So we organise testing at the club on our own. It is about our responsibility.
— Has the club had any troubles with authorities?
— No, just fringe complaints. We've managed to solve those issues.
— Have you ever thought of moving from a small city, somewhere where it's easier to be openly gay? Where everything is not so in sight? Say, to Moscow? Or even abroad, to Kirkenes, for instance?
— No, surely not to Moscow. It's like six of one and half a dozen of another. Still the same Russia. And I will leave the country only if there is a direct threat to my life or a falsified criminal trial. But not to Kirkenes. It's a nice city, but I wouldn't be able to live there. It is too quiet for me.