Society
Between War and Peace. Journey Through Chechnya Without Politics and Fear
Jamal is a handsome young man. He is in all black, but his jeans are loose and his sweater has some coloured lettering. He attends vocational school and works at the market. Jamal had a friend, but he recently moved to Moscow. Because there seemed to be "some obliquity of conduct", as Jamal puts it. He would wear yellow T-shirts and purple trainers, and would not cut his hair for four months. His father even got calls from the vocational school. In the end, he ran away.
— What if he had stayed?
— He would have got in trouble, of course. Perhaps they wouldn't have put him behind bars. But then, he would have had no life.
The persecution of gays in Chechnya is undoubtedly the most high-profile and probably the only story from this "state in a state" that has hit national media. What the day-to-day life in the region involves, besides gay persecution, remains a mystery for most Russians.
To clarify the context of the controversial news and to see the republic with her own eyes, journalist Anna Bokler went to Chechnya about six months ago and spent several weeks there. Now, AIDS.CENTER is publishing her story.
Three Pairs of Eyes
In a cafe, Grozny-TV is featuring a woman under interrogation. She is not trying to turn away from the camera or cover her face. Instead, she is asking for forgiveness. Her son left for Europe and wrote to his mother, asking her to send him his certificates of arrest, as he needs them to obtain refugee status.
He was arrested at their home either for just being openly gay, to the extend that is even possible in Chechnya, or for LGBT activism. But the letter was intercepted, and his mother was summoned for an interview, with television reporters also being called in for edification. Public human rights defenders are calling on parents to start "taking a closer look at their children as soon as possible". Because "later, they may choose to flee from Chechnya" and go on to "slander" the republic.
As I travel around Chechnya, this phrase echoes around me repeatedly. I hear it from mosque employees, workers, guards and vendors. Understanding local life by looking from the centre is really not easy.
If you are in Chechnya for the first time, the first thing that catches your eye is the portraits that hang, probably, in their thousands all over the republic. No matter where you go in Chechnya — be it a school, a hospital, a kindergarten, a municipality or an apartment building — three pairs of eyes always meet you. These are of Akhmat-Khadzhi Kadyrov, Ramzan Kadyrov and Vladimir Putin. The Kadyrovs are thanked in golden letters for the opportunity to learn and be healthy.
Ramzan's photo can be found on T-shirts, mugs, flags and pocket calendars. The Akhmat fighting club, the Akhmat-Arena stadium and the Akhmat Tower, due to be completed by 2020 and set to become the most multi-storied building in Russia, are all named after his father. So far, however, you can only see banners advertising its future offices and apartments in the centre of Grozny. There will also be a new museum named after Akhmat Kadyrov.
In November, Russian media reported citing the appeal of the mufti of the republic Salakh Mezhiyev that the Spiritual Administration of Muslims of Chechnya had forbidden marriage for HIV-positive Chechens. According to them, newly-weds' marriages in the republic would be considered "invalid" without a document confirming the new spouses to be HIV-negative.
In practice, it turned out that it was not about a ban, but about the obligation to take an HIV test for people who were going to get married following a religious ceremony to "increase the detectability of the disease".
A reverse example: In November 2017, another story hit the headlines. Some time ago, Ramzan's daughter Aishat Kadyrova opened a lingerie and sex toy store. Once more, the officials described the information as "fake". Ramzan Kadyrov has always repeatedly promised that immodest women would end up in hell. However, the Islamic clergy and even the imam of the Moscow Memorial Mosque Shamil Alyautdinov, later told the BBC: "There is a lack of understanding in modern families, primarily because couples cannot find a common language to talk about the intimate part of their relationship. So Aishat is doing a good job." And the existence of the store was no longer denied publicly.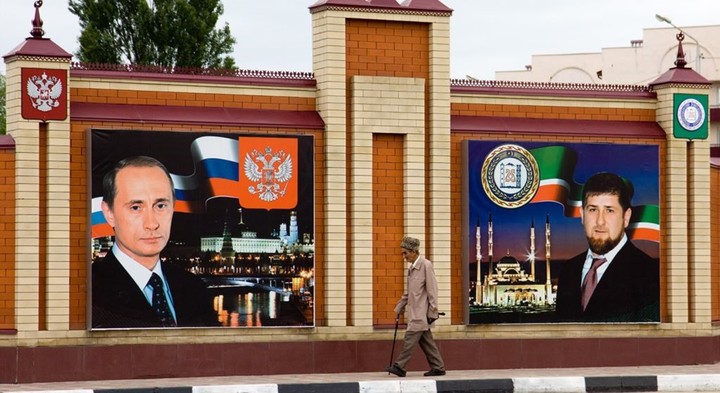 Two Worlds
Life in Chechnya is about contrasts: post-Soviet modernity and almost medieval antiquity get on with each other, sometimes in the most bizarre way.
The Grozny-City skyscrapers sit alongside the largest mosque in the North Caucasus, a girl on the street wearing a hijab is laughing showing her friend her new iPhone, and the Centre for Contemporary Art is operating totally legally on Putin Avenue.
"The conversation turned to the opening of a sex shop in Grozny. Everybody is uncomfortable. Muminat says that it is not customary to talk about such things. She explains: "There probably should be this kind of stuff, but we are simple people, and we do not need that."
Outside the city, the ostentatious well-being is much less presented. And there are no iPhones. Muminat, the hostess of the house in one of the villages where we happened to drop in for an overnight stay, gives a signal that it's time to breastfeed the baby and suggests that we go to another room (her father-in-law, husband and the older boys are sitting at the table).
She used to work as a nurse in a medical unit up until her eight-year — by the number of children — maternity leave. Her husband's education was interrupted in the 5th year because of war. Now he hunts boars in the peak season and sells meat to Russians. They use this money to buy clothes, tea, grains, sugar and petrol. The rest is all home-produced: they have a vegetable garden, goats and poultry.
Muminat had repeatedly tried to find a salaried job in her speciality. Meanwhile, her husband would have graduated from school, got vocational education, and acquired a profession. But the idea had to be put into cold storage; in a small village like theirs, it would have been humiliating to pore over textbooks while your wife was working. So they are living without luxuries for now.
We return to the dining room. Muminat must serve tea and flatbread after dinner. The conversation turned to the opening of a sex shop in Grozny. Everybody is uncomfortable: the father of eight breaks out in laughter; Muminat explains that it is not customary to talk about such things, and her father-in-law turns to the screen — the commercial break is over. Muminat explains that they now know better, and, since it helps families, there probably should be this kind of stuff, but "we will do without it, we are simple people, and we don't need it".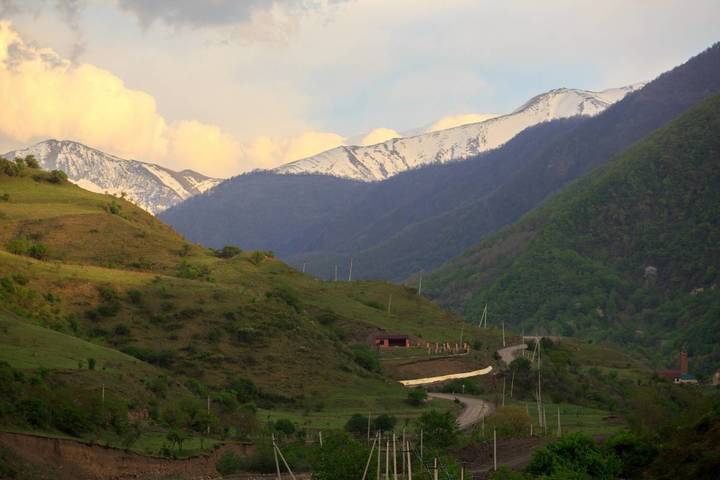 Healthy Spirit
Medicine is a separate issue. There is a medical vocational school in Grozny, and the university also has a medical institute. In 2019, 67 people will be admitted on a non-preferential basis to state-funded places for medical care, paediatrics and dentistry at the medical institute. For the medical vocational school, the number is 350. But among the reasons for having a car, locals always say: "What if you need a doctor?"
To see a doctor, they go to Khasavyurt, Mozdok, Ossetia, Stavropol, Krasnodar and Rostov. To answer the question: "Why so far?" there is a half-joke: "You come to a doctor here, and if you've broken your finger – they say to amputate the finger, your arm is aching – amputate the arm, got a headache – well, cut off the head".
Some cite unofficial prices for admission to the medical college. Others say: all the smart doctors have long moved to the central part of the country.
However, there exists an alternative approach to dealing with ailments. Herbs and tinctures are available in the markets. The labels quote the Quran, explaining what specifically this product is good for.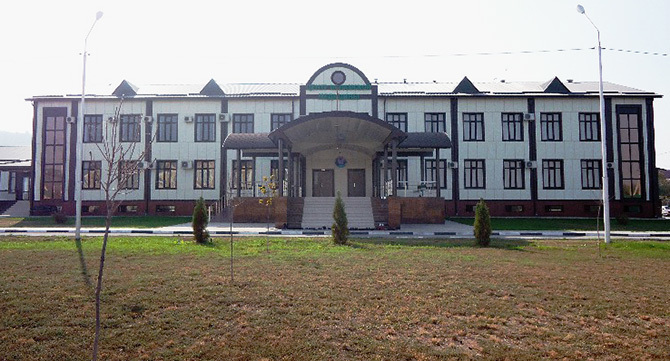 Next to the jars are leaflets with instructions on what and how to read while taking herbs. The salespeople say that herbs help eliminate neuralgia, kidney stone disease, insomnia, infertility, evil eye, stomach pain, the effects of witchcraft and genies possession, that is, possession by evil spirits.
The Centre of Islamic Medicine has been functioning in Grozny for ten years now. There, mental disorders, musculoskeletal diseases and increased blood pressure are treated through the reading of the Koran. Upon admission, the patient is checked for the presence of a genie, and if there is one, then there will be discomfort while listening to the Holy Books.
Patients don't have to pay, since all the activities of the Centre, including the employees' salaries, are fully funded by the regional Akhmat Kadyrov Foundation. The only requirement is to comply with the Islamic canons, at least at the level of body-covering clothes and abstaining from smoking and alcohol.
Their Own Laws
Apparently, though, it is inappropriate to fall ill in the republic. In the Chechen villages, one may ask you with sincere sympathy: "How come you are wearing glasses at twenty (twenty-five, thirty)?".
Local teens almost never wear them. Several people quite often share one gadget here; they don't use computers, work quite hard and have their rest on the street. Book stores only offer textbooks, office supplies and small toy books for those who are just learning to read. So it's a fertile ground for visual acuity. Another thing I'd like to emphasise: they almost never drink.
"You come to see a doctor here, and if you've a broken finger, they say to amputate the finger, your arm is aching – amputate the arm, got a headache – well, cut off the head"
"There is a product, there is money, but you cannot buy it". After the first hundred kilometres in Chechnya, you start to get sick and tired of this riddle — of course, we are talking about alcohol.
They say that quite often, there are people with mobile phones and a hunger for quick money standing near Lenta, one of the few stores where you can still buy it, and keeping watch. They film a person coming out of the store with the bottles to blackmail them after. Otherwise, they will show the videotape to the employer, to the government, or, most importantly, — to the relatives. However, this apparently does not apply to tourists. One can buy alcohol at a supermarket from eight till ten in the morning. Two hours a day, that's all.
For the same purpose, the locals have to leave the borders of the republic and stock up there. There are usually no problems with coming back.
Family Stuff
By the way, relatives in Chechnya are even more feared than the government. Here, the society is divided into teips. Teips are tribal clans, each with its own council of elders and twenty-three principles (moral postulates), including prohibition on marriages between members of the same teip, the right to communal land tenure, providing any assistance to a member of one's teip, and blood revenge.
There is overwhelming hospitality on the ancestral streets. They will invite you to live at their place, give you the best room, cook a hot dinner for you, take forever to let you go, and only much later allow you to leave under one condition — you have to accept a heavy bag of food. Firstly, the Prophet Muhammad said that the guest is a guide to the gardens of paradise. Secondly, people here are accustomed to being in a company, and it is important to maintain the status of a hospitable host in the teip. And, besides, everyone has simply got used to helping each other, because Chechnya has been though many hard times.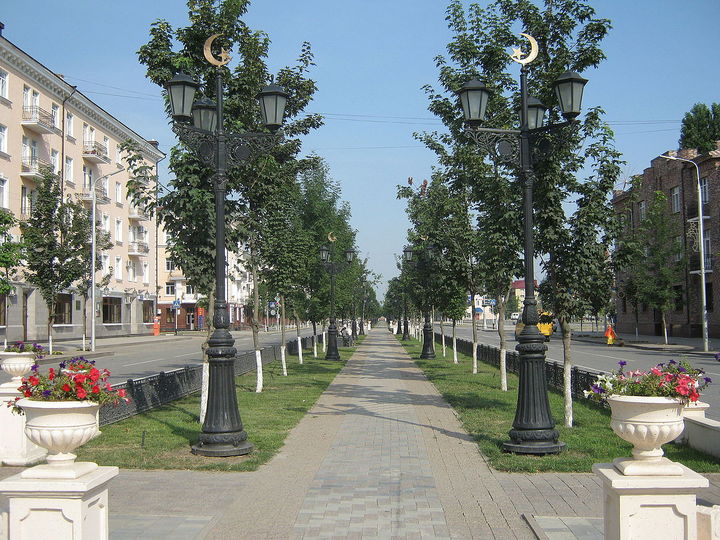 We talk with Zaur about work. He sells windows and teaches Arabic, which he learnt on his own, at home.
— Your own people punish you and help you out. Here you are, engaged in projects helping people adapt to life after prison. There is theatre, literature, stuff like that. That's great. But we would not have this problem. You are out of prison, and you are welcomed by your family, your brothers. You made a mistake, right. But it's the others, maybe even the whole world, who will hate you during the hard times, while your own people will always come to your rescue, — he explains the local rules. — The family always accepts you back, the family is huge. That is why everything will be fine with you, and you'll pull through.
Nobody is Forgotten
— Why aren't you wearing a headscarf? — Zaur's daughter, six-year-old Amina, touches my hair.
— She's not a Chechen, — her brother Oyub laughs.
— Well, at my school, everybody should wear a headscarf...
— There is no "should". People wear them when they consider it necessary, — Palada, her mother, interrupts the girl. However, she immediately throws a red scarf over her head.
She is young, all smiling, and a little too cheeky for Chechnya. There is a bottle of vodka and tobacco roll-ups on their night stand.
— Of course, I cover my head when I'm in the garden or when my husband's parents come for a visit. But if I go somewhere to travel someday, I will not be wearing a headscarf there. But here, I cannot do that.
Palada's husband Zaur sits in a chair for a long time with a cigarette in his mouth, resting after work. He adds a bit later:
— You just cannot look like that here. My three brothers and two sisters live with their families on this street, together with my parents and their brothers and sisters.
Two wars destroyed the republic almost to the ground. They have not been forgotten, but people almost never talk about them.
I have my last conversation with Yusup. An old man, who still remembers the deportation. He does not say anything about the military events, and only keeps praising his geese, which are wandering right here around the yard. His six-year-old grandson shares his life plans:
— I will go to Moscow to become a policeman, or join the special forces. By the way, special forces soldiers often get killed.
Yusup slaps him over the head:
— You will go to a regular university. Enough with the fights!
Yusup wrinkles his forehead and smokes caustic roll-ups. During the war years, he never went outside the stone fence surrounding their yard. He says: "We stayed alive, and that's enough".