Society
"Caucasus is Power": How Gay Migrant Workers Get Attacked in Moscow
Under the veil of "traditional" Islamic values, gangs of people from Muslim regions of the country shake down migrant workers of "non-traditional" sexual orientation. One reporter of the AIDS.CENTER website talked to the victims of fake dates and assaults in person to find out how exactly this business is organised and why migrants from Central Asia so rarely turn to the police for help.
There is an Uzbek teahouse on the second floor of a two-storey dirty white building right opposite a metro station on the outskirts of Moscow. Migrants from construction sites across Moscow Region come here for lunch. They get here by minibuses that stop just a few hundred metres from us. It is dangerous for them to approach the bus stop closer. Police are on duty there. Most of the frequent guests here have neither residence permits nor any other documents authorising their stay in Russia. They prefer taking a taxi to get back to their rented apartments at the other end of the metropolis: it is cheaper to split the bill, and, besides, they do not have to take taxis that that often because of shift schedules. They spend two days on the site doing various types of work, such as repairing newly built apartment houses, floor screed or painting, and two days "at home".
We sit at a table covered with a plain checkered tablecloth. There is a menu in Russian and Uzbek offering fresh pastry and pilau, an Uzbek national rice dish, at prices twice lower than the normal market rates. Payment is strictly by cash. Our first interlocutor has lived in Russia for about ten years. A couple of years ago, he lost his documents in Saint Petersburg, where he worked as a shop clerk, gay sauna manager, salesman, and finally – car dealership manager. Since he moved to Moscow, he has been working on construction sites as a crew foreman.
People's surprise at it makes him smile: "Do you think gays can't be builders?" After taking some time settling down, people who come from Central Asia to Moscow mainly find jobs as bartenders or hairdressers. The luckier ones with proper qualifications find jobs in their various fields. Still, almost all of them have to start with a trowel in their hands. This means that almost all of them have "basic" skills in either painting or plastering.
Construction Site Instead of Sauna
Uzbekistan is one of a few former USSR countries where being gay is still a criminal offense. There, convictions of homosexuality can result in a jail term of up to three years, along with the accompanying humiliation of the examination and trial procedures. Kyrgyzstan and Tajikistan excluded this paragraph from their Criminal Codes at the end of the nineties, yet the situation is not better there.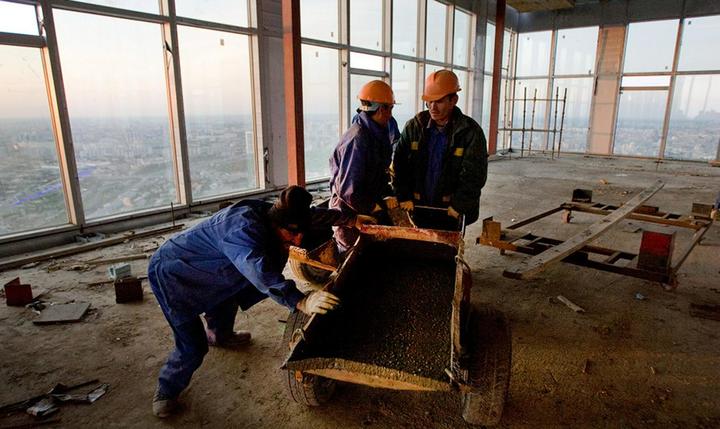 If anyone there finds out you're gay, even though you probably won't be killed physically like in Dagestan or Chechnya, you will definitely die socially. First, the victim will be disowned by his family. And hardly anyone will fancy marrying his younger sister. Then his friends and acquaintances will also abandon him. He's not likely to find a job either. That is why right after graduating from school or a vocational institution, most of them move to Russia, their northern neighbour.
Upon reaching eighteen, almost all guys come here to "make wedding money". Parents would never discourage them from that or get suspicious: "Well, if you want to, then go for it." The young man will finally settle in Moscow, find a boyfriend, and get a permanent job.
Going further to the West is pointless. A foreign country is a foreign culture. Russia, on the contrary, feels like home. They grow up watching the same cartoons and TV series, with almost similar school curricula. Of course, you will have to learn Russian in real-life, but that's not a problem either. Learning English or German would be far more difficult.
Gang bangers know that nobody would stick up for us here. They know we are sheep, so they act like wolves
"Construction is the sexiest job," my interviewee states bluntly as he sips dried his fruit compote. They don't serve beer in a teahouse. He immediately comforts me by adding, "Relax, I'm kidding."
"It's only in Russia that working in construction is viewed as something humiliating. In the rest of the world, it's different. Being a master of your craft is honourable. After all, you are not just doing something with your hands, you are creating something!" — the ex-administrator of a gay sauna says, as he becomes increasingly excited. "When you are a professional, and have spent years mastering your craft, it is an honour!" He immediately plays his trump card: "Look at Saint Petersburg. The city is filled with mouldings, statues, facades, and palaces… You like that, don't you? All that is created by people, by masters."
His crew has four more people. Two of them are "in the loop" – the first one used to be a barman, and the other worked in escort business. The other two are heterosexuals. "They pretend to not have any idea, but they definitely know something. After all, we make gay jokes all the time rather blatantly." They rent an apartment near the Shchyolkovskaya station.
Murad, also called Adam
"It was Saturday evening. We had come home from a site with the guys, then chatted for a while as we always do after work," the guy narrates. "Already in the morning, I got a message in a gay chat from a guy named Murad. He looked cute. He suggested that we meet. Like the Russians, we often meet like that after work just for a chat in a café. If we like each other, we may have sex."
Apps like Tinder, Hornet and Telegram are standard dating tools. Almost all gays in Moscow use them. "Special interest" communities on the VK social media platform are less popular. If there's no time for clubs and discos, it's hard to find an alternative. In this case, people upload real photos, but without a face. The hidden pictures contain portraits and nude photos. If one has those.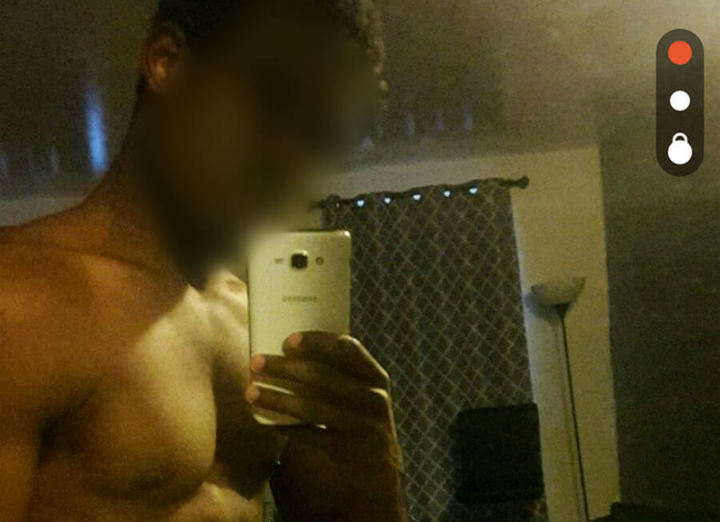 The chat took a couple of days. "He asked me to unhide my intimate photos for him. I asked him to show his in response." He sent them to me. He said he only liked Asians and people of Middle Eastern appearance.
"The dude himself was from the Caucasus. About twenty-five. He said he was a security guard. Here, many guys from the Caucasus are afraid to meet their fellow countrymen because people they know may then find out about them. Speaking about Russians, they don't get along with them very well. Besides, a lot of them work as security guards. So I didn't suspect anything bad," our interlocutor explains. On the second day, they exchanged phone numbers and agreed to meet at 11 p.m. near the Partizanskaya metro station, not far from the park. "I went to a pharmacy to get some ointment for my back, because it hurt after work. I told the guys where I was going. Then I set off for the meeting."
"Soon after I said hello to Murad, who introduced himself as Adam, he told me he would go out for a moment to drop into a McDonald's near a hotel and come back. A couple of minutes later, he did show up. However, he was accompanied by two men. The first one ran up to me and grabbed me from behind, while the second one took out a knife. I immediately realised that the date was just a trap and I had got into a big trouble. But it was too late to flee." The two men were both from Dagestan, and both had beards. At first, they called themselves policemen for some reason, and demanded that the man follow them.
"They were wearing monkey jackets and joggers with grey stripes. It's sort of Caucasian style, you know. There was a black BMW with tinted windows parked nearby. It was some old model like in the series Law of the Lawless. They dragged me into the car. As we drove closer to the park, they dropped me off. They took my money and my phone. Then they turned on a camera and made me say out my name, surname and say: 'I'm a poof.' And something else of that sort," the young man recalls.
"I gave them a fake name. I didn't have any documents on me, so they couldn't check. They only told me I had to be at the same spot at 9 the next day and bring them money, otherwise they would send out my "coming out" video to all my relatives whose numbers I had in my phone. While they were dealing with me, the older one said, 'You're lucky it's Ramadan now, that's the only reason why we won't beat you badly.' It was May 22. He also asked me where I lived. Murad, aka Adam, who acted as the bait, turned away. He seemed to be ashamed. I guess he was really gay, because what he had written to me online seemed quite authentic. He was using all the words that we gays use. You can't just make that up."
After they took him to where he lived, they let him go. The victim managed to restore the SIM card from his stolen phone and get in touch with his friends only on June 4. "I stayed at a construction site for a couple of days, as I was afraid of getting ambushed. When I opened my WhatsApp, I saw a message from my friend, a Kyrgyz student, saying that he had just been caught and beaten up; he had his trousers torn. It happened in the same place on Pervomayskaya Street. I asked, "Were they three of them?" He replied, "Yes." They also showed him my video, wrote down his passport data, and said that if he didn't bring them 100 thousand rubles in a couple of days, a similar video featuring him would be sent to his parents. They made my friend's confession video while beating him up."
Unlike the lucky crew leader, the student kept names of his family members — mom, dad, brother, sister, and others — in his phone in Russian. "I have all my contacts in Uzbek, so the guys from Dagestan could not send anything to anybody. They just couldn't figure out the numbers to dial."
"Foster" Brothers
A year before these events, two more acquaintances of our hero had run into blackmailers. One was also seized here near the Partizanskaya metro station. He was lured into an apartment rented for a day. The second was taken near the Domodedovskаya station. Yet the procedure was always the same: beating up, making a video, and demanding money.
"The one who was seized at Partizanskaya transferred 30,000 rubles to their card right away. 'I will bring the rest tomorrow,' he said. As soon as he was set free, he immediately called his parents to ask them to change their phone numbers and delete their accounts in social media. Without giving any details, he just told them that he had run into blackmailers and got into trouble. They took him at his word, and did everything he had asked for."
We meet the second guy on Tsvetnoy Boulevard. They renovate apartments there too. I suggest that we sit in a local café called Jean-Jacques. He easily finds the place without any help. He was kidnapped by a different gang. It also included men from the Caucasus.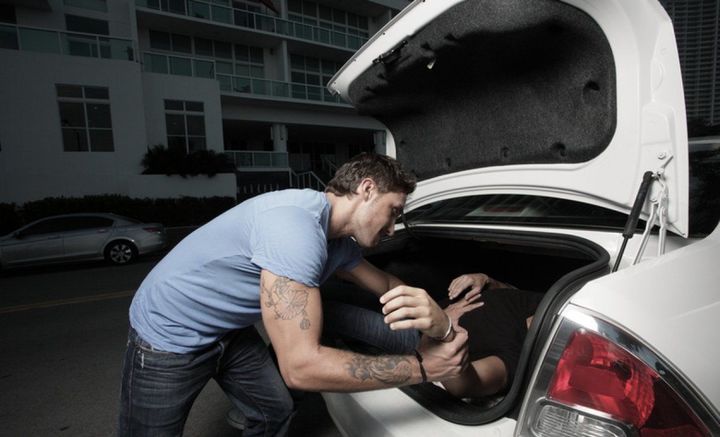 "When they brought me to the forest and started beating me, the big red-headed Chechen driver said that it was their way of "teaching Muslims to behave properly"." However, he didn't explain why the teaching included extortion of money. Instead, he offered the man a job, "You look like a nice guy. If you give up all that stuff, we will help you."
It sounds like a cruel joke but after humiliating and beating the guy up, they suggested that he become a bait himself. The job would involve luring fellow Uzbek countrymen to dates and bringing them to the forest.
"They said that if I helped them 'teach the brothers', I would earn a lot money. They make one hundred thousand rubles with every video. The bait gets twenty thousand of it. I told them I had to think about it. The next day, I filed a report with the police."
"Stimulus" for Police Officers
The scheme described above was obviously successfully used in attacks that took place in the Izmaylovo District as well. Many gay migrants keep in touch because their social circle is rather narrow, so they provided information about "Murad-Adam" that helped reconstruct his biography in detail. Apparently, just like many other gays from the Caucasus, the guy used to work as an escort in Moscow, which, in fact, implied working in gay prostitution and providing sex services for money. However, after being caught by racketeers, he agreed "to cooperate" with them.
Even though the police accepted the report, they did not launch any investigation procedures for a whole year. Moreover, although they gave the victim a document confirming the submission of the report, they somehow lost the case file that included the bait's current phone number and the kidnappers' car registration number.
Then they turned on a camera and made me say out my name, surname and say: 'I'm a poof.'
If the young man hadn't gone for help to the "Stimulus" LGBT rights organisation, it would have fallen into oblivion just like hundreds of other similar cases. It was only due to their intervention following an internal investigation into negligence of duty that the Acting Chief of Criminal Investigation and the Head of the Ministry of Internal Affairs for the Leninsky District, Moscow Region, were immediately dismissed.
It was also thanks to Stimulus that police caught one of the blackmailers in Izmaylovo red-handed receiving money from a victim. However, most of the victims do not go to the police out of fear of publicity and likely deportation.
"If a migrant does not have proper documents, the chance of being expelled from the country instead of getting help is extremely high. Malefactors know about that and take advantage of the total vulnerability of their victims, counting, with good reason, on their impunity," remarks Anton Ryzhov, the Stimulus lawyer who is handling both cases.
Sheep and Wolves
"Another problem is that the police work only if all the evidence is handed to them on a silver platter. You need to document the injuries, find accounts of the criminals on social media platforms, provide their current numbers, and arrange a meeting all by yourself. Otherwise, the police are just lazy to act, and the reason for that is not homophobia or nationality of the victim, but their simple unwillingness to do their job. Racketeers themselves brag about having hundreds of videos recorded on fake dates. The police consider the victims of such attacks as a burden, that is – people who distract them from "real cases"," he explains.
One of the victims puts it more simply, "Gang bangers know that nobody would stick up for us here. They know we are sheep, so they act like wolves."
According to a 2019 report by Stimulus, fake dates are one of the most common types of homophobic attacks in the country. "Most of their victims are gay or bisexual men who look for dates on the Internet." By the way, these can be men of any nationality. In 2017 and in 2018, fake dates became the most frequent reason for LGBT people to contact the organisation.
About a year ago, based on materials provided by Stimulus, an article was published by The Village about similar crimes targeting Russian citizens. The statistics presented there speak for itself: only 19% of gay men who have been assaulted go to the police, while more than 77% of victims prefer to remain silent about what happened. It would be no exaggeration to say that this proportion is 1% against 99% among migrants.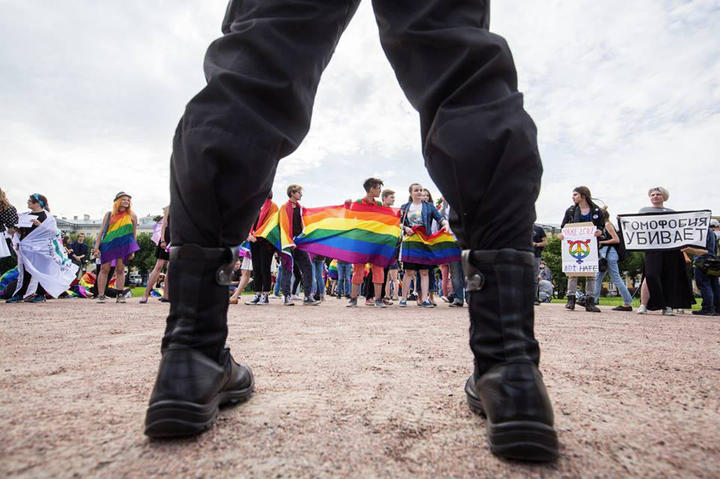 Another victim who was interviewed by AIDS.CENTER about half a year ago has also been attacked several times. He is convinced that such cases are extremely common among LGBT migrants. However, staying at home to steer clear of Moscow blackmailers is not an option.
When his brothers found out about his orientation, they did not only beat him up during one of his rare home visits, but also took his passport and locked him in the basement. The poor man had to stay there for over a month until he miraculously escaped with the help of his sister who took pity on him.
Shortly before this article was published, Stimulus informed AIDS.CENTER about another victim who had asked them for legal support. This gay migrant was beaten up and kidnapped by a gang of bandits not from Caucasus, but only Tajiks. In fact, this dirty business is done by people from any Muslim regions, and not only those claiming to belong to the religion. However, this case also included the same dating scheme, a forced coming out recorded on video, and extortion. Nobody knows how many such gangs currently operate in the Russian capital. Even the police, notwithstanding that gathering information about such things should be their direct responsibility, remain uninformed.
"Despite that, we have already filed a report with the police concerning the new case, and this time, it looks like the investigation is getting close to an end," Anton Ryzhov says. Even before the Stimulus lawyer took the case, our reporter had contacted the victim. However, Ryzhov asked us not to mention any details of the case, as its disclosure could impede the apprehension of another bunch of "crusaders for the purity of Islam" who don't deign to fix their financial problems while "setting their brothers on the right path".
In exchange, they give the victim's family an illusion that their son is making wedding money, just like many other guys from their distant homeland. An illusion that he is just working in the inhospitable capital that feels like home and was as much Uzbek as Russian just thirty years ago.