For those who are hearing the word palliative for the first time, a hospice is a medical and social institution for treating terminal patients. "Nyuta" – Anna Konstantinovna Federmesser – is the founder of the VERA Hospice Charity Fund, one of the pioneers of the hospice movement in Russia. Her mother, Vera Millionschikova, was the founder and head of the first Moscow hospice up until her death.
Anna Konstantinovna has been the head of the State Center of Palliative Care, part of the Moscow Department of Healthcare, for two years. But she still appoints the fund's office at Smolenskaya metro station as the location for our interview.
On the first floor at the very entrance, under a portrait of the actress Rimma Markova from the film Pokrovskie Vorota (the one who said: "Cut to hell!"), there is a board with markers. These are the statistics for the hotline. Number of calls for July – 725. Below is deciphered: "pain relief," "no drugs," "state your address." These are the questions people ask when they call here. Aside from the hotline, the fund also provides methodological and material assistance to eight Moscow hospices, provides targeted assistance to terminally ill patients, and coordinates and trains volunteers.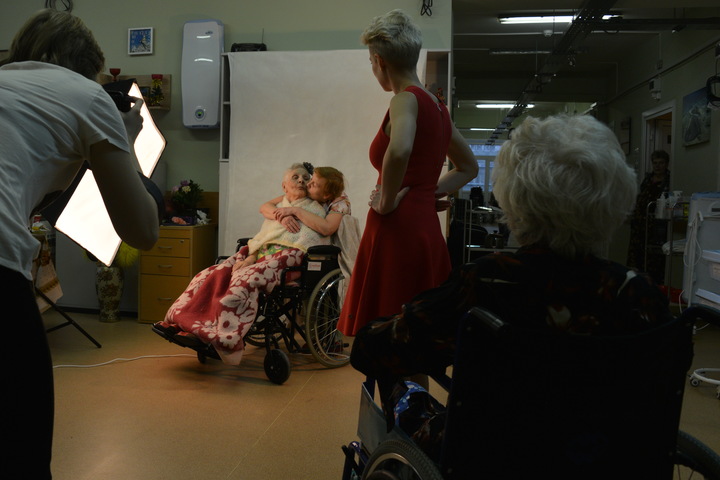 These services occupy the first two floors of the building. Ms. Federmesser's office is on the third floor. Our meeting is constantly postponed. The boss is still absent at 8pm, 9pm, 9:30pm. A force majeure. An urgent issue took her to the other side of the city. Around 11pm Nyuta herself appears. From the doorway she says, "Today was a hell of a day, sorry," and sends her assistant home, "If you do not rest, I will fire you." Though she herself has no intention of resting, "I'm usually here until one in the morning."
– What happened?
– I ran into a thing I've heard about many times but never seen with my own eyes. So-called black estate agents were trying to take away the apartment of one of our patients, today I had to talk with them personally.
– Did you get the granny back?
– Yes, for now. We filed a police report.
On the wall of the office hangs a picture by one of the patients (who died long ago): a dandelion, the wind tearing its white seeds out in tufts – that's the fund's symbol. On a shelf nearby are two books: Look at him by Anna Starobinets, and Dr. Lisa Glinka's Conversations. Diaries. Nyuta sits down.