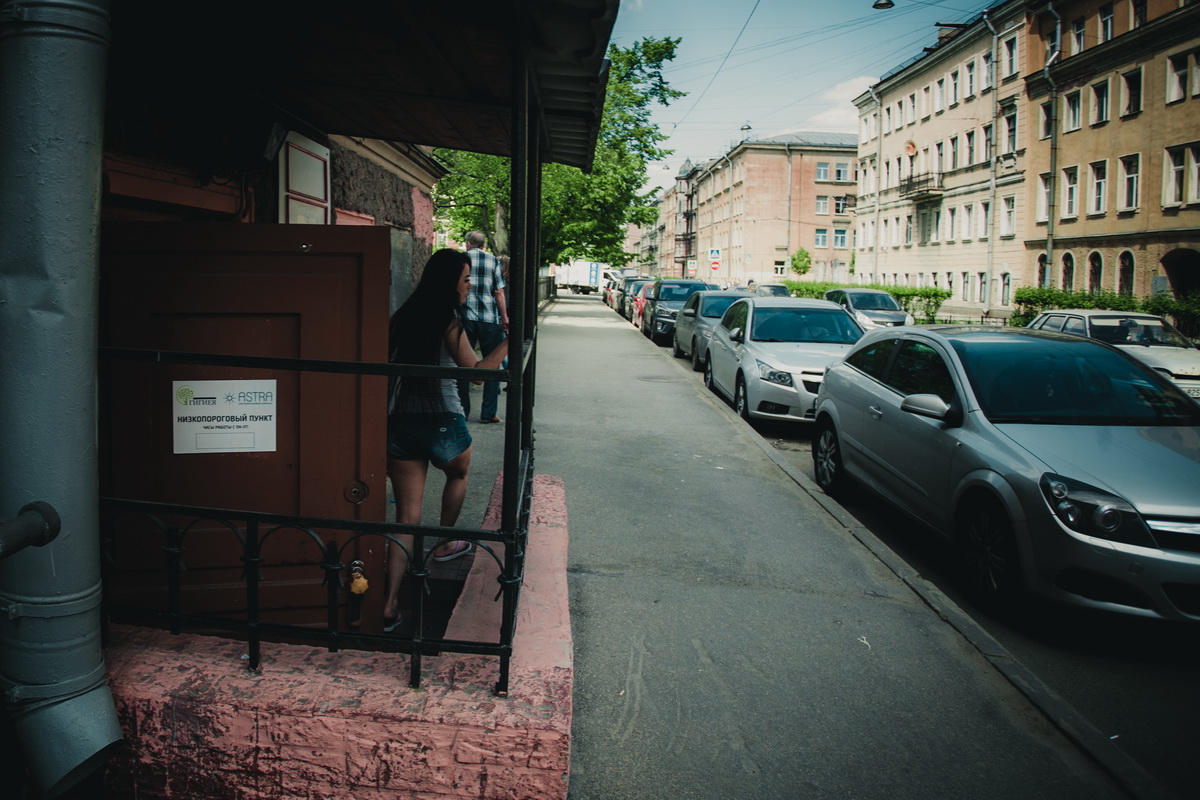 Prevention
"Baby, tell me how you put a condom on": how HIV prevention is set up among sex workers
'Free rubbers' and hypocrisy
There are 3 million sex workers in Russia. This is the number given by Itina Maslova, the head of the sex worker movement "Silver Rose", however, nobody knows the exact figure.
Three million women working in this sphere in Russia are subjected to violence on a daily basis, they experience stress and have an increased risk of being infected by HIV.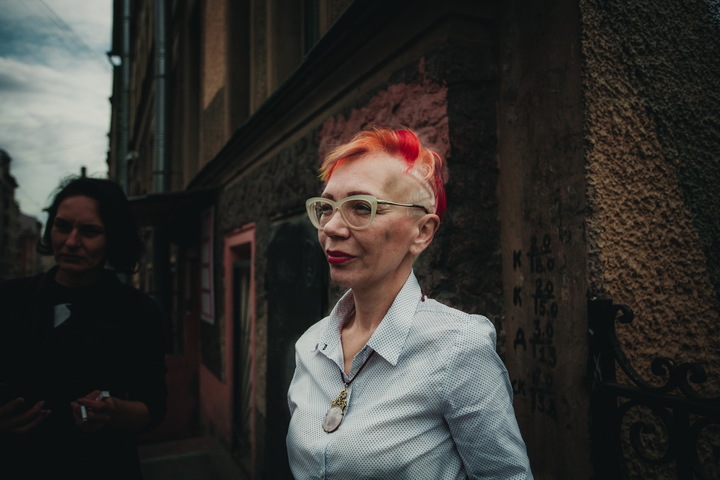 Continuous prevention work must become a barrier in the epidemic's path
Those at the AIDS Center of St. Petersburg say that they do not have an epidemiological code for SW (sex workers – editor's note). Accordingly, no statistics have been recorded about them. Visitors of the center do not indicate whether or not they belong to this group, they are treated as ordinary people, as per the legislation.
As of 1 January, 2018, there have been 55,694 recorded cases of HIV infection among the citizens of St. Petersburg. In 2017 there were only 3 083 cases. In the past year, 1.49 million people in total have been examined for HIV (28.6% of the city's entire population) – this data has been provided by the St. Petersburg AIDS Center.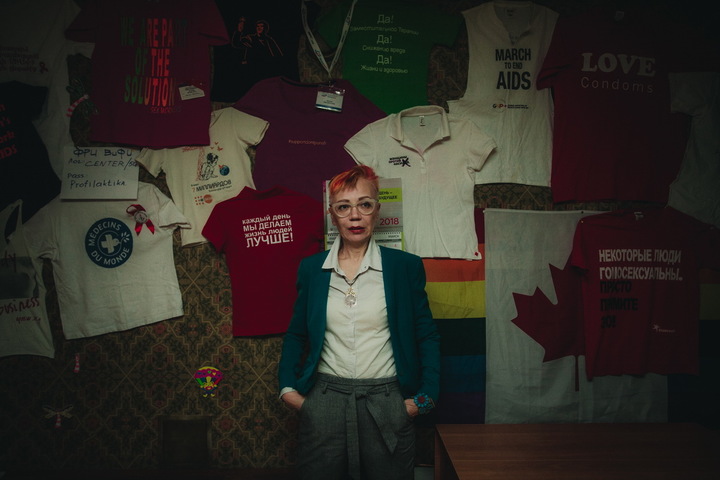 Maslova explains that sex workers are included in Code 104 – Patients with STI. She thinks that the absence of an independent group for sex workers is a big problem. As a result of this, the state system "doesn't have an understanding of what is happening in this group, there are no statistics."
"The St. Petersburg AIDS Center has the only reliable information [about statistics for sex workers] for 2012, when we made a community-based survey with a sample of 500 people. Then we 'dragged out' a 12.9% incidence rate. Over the last 3 years we have been conducting testing as part of our everyday work, and we have approached the 3% threshold. Continuous prevention work must become a barrier in the epidemic's path." – Maslova says.
STD incidence rate among sex workers is 8 times lower than among the rest of the population. This means that workers are actually using condoms, they are taking care of both clients and themselves.
The Rose is helping to conduct a new research in collaboration with the State AIDS Center in summer 2018.
Maslova says that this year she talked to the head of one of the district STD clinics where sex workers are sent. He informed her that STD incidence rate among them is 8 times lower than among the rest of the population. This means that workers are actually using condoms, they are taking care of both clients and themselves.
The Head of the Federal Center for Prevention and Fighting AIDS and Member of the Russian Science Academy Vadim Pokrovsky explains that there are few HIV-service organizations that work with sex workers. Even fewer organizations work with migrant sex workers. The problem is in funding sources – it is very hard to find support.
"Hypocrisy reigns in our society. In the foreseeable future, these organizations don't have much of a chance, they won't be supported," says Pokrovsky.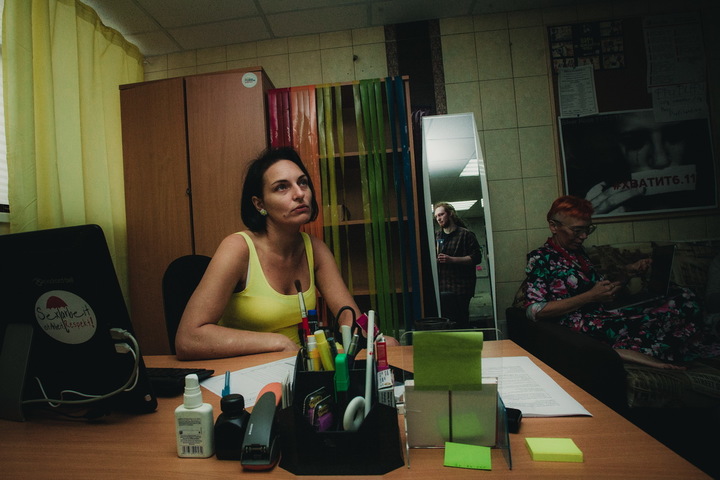 The sex workers movement and non-commercial partnership "SIlver Rose" was established in 2003. It is an active, effective, loud public organization providing sex workers with a wide range of services. They are also helping to prevent HIV by giving away free condoms and lubricants, conducting saliva-based HIV testing, arranging doctors appointments and legal consultations, and providing psychological support. Most of the organization's employees are consultants of the same level, which helps to establish confidential relationships.
In two and a half years, the Rose has assisted 7,000 sex workers. According to the employees' opinions this number is about 15% of the total number of sex workers in St. Petersburg – 45,000.
In two and a half years, the Rose has assisted 7,000 sex workers. According to the employees' opinions, this number is about 15% of the total number of sex workers in St. Petersburg – 45,000. Meanwhile, there are only 5 people working at the fund 4 days a week. Friday is a methodological day with trainings, group classes, self-education, or travels. The organization is sure that if they had 10 outreaches and a decent minibus, they could assist up to 15-20 thousand people per year.
Since January 2018 the employees of the Rose do not conduct outreach directly in salons. They used to go out twice a week and visit 2-3 salons per day. The preference was given to new facilities, where girls didn't have primary cards (people under the care of the Rose are given special cards with personal codes which they use to obtain the necessary services – editor's note); they gave out condoms, lubricants and assigned appointment with doctors.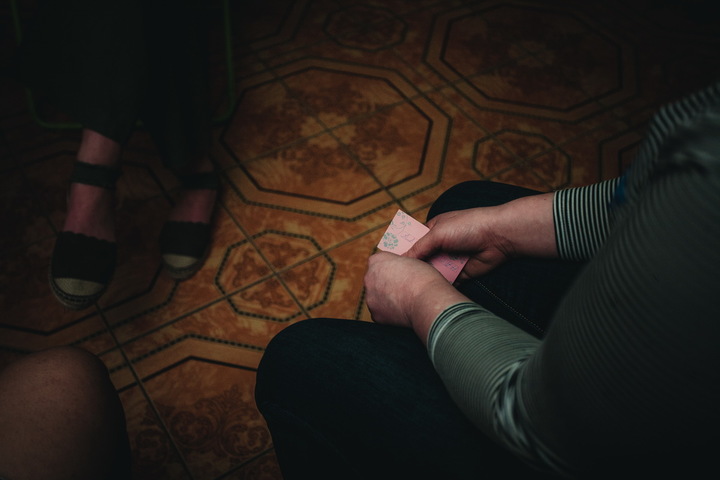 "Before, a girl would collect the cards from the whole outfit, come to us, hand in 10-15 cards, and we would provide everybody with the things they needed. After they ['for sale' ads] started to appear on Avito (a Russian online marketplace), we introduced a strict rule: "You come in person, you get what you need with your own hands," explains Maria Lapina, an employee at the Rose, "We didn't want our project to become just a 'free rubbers' initiative." But the main thing is when they actually come to our low-threshold center – this is more important."
The Head of the organization agrees: "Girls [sex workers] are put on a hook of fear. The main goal of our project is to overcome that fear. They are not afraid to come here [to the low-threshold center], they are not afraid to visit our doctor. They are not afraid to talk about theirs problems, we teach them how to protect themselves in terms of existing laws, how to act when "controlled purchases" are made (law enforcement officials come to salons and try to catch the girls in the act – editor's note), what to write in the protocol, how to act in court.
Safe space
In 2015 the Silver Rose set itself a goal: 80% of people under their care should come to them at the low-threshold center. "We provide a safe space," says Maslova, "a place you will not be turned away from, where you won't be judged. It doesn't matter who you are: a woman, a man, a transgender person, a migrant – we don't care. If you provide sex services for money, we love you, come to us, we've got something to offer you."
She remarks that people need to be taught to take the first step – to ask for help: "You need condoms – you come to get them; you need support – you come to get it; you need a group – you come. You need a psychologist – same thing."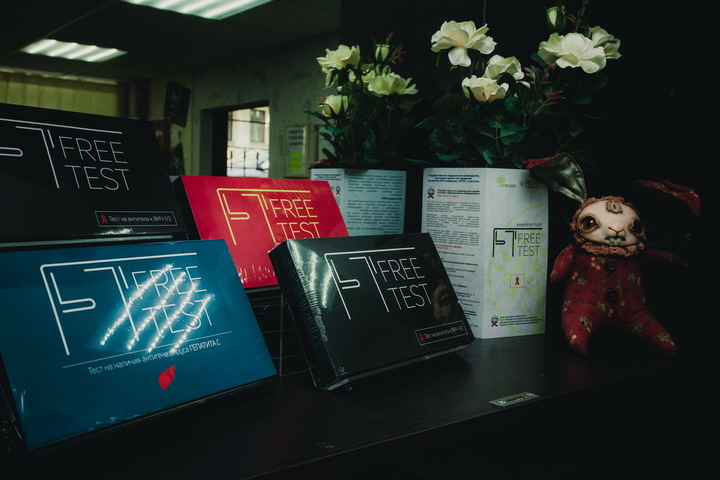 Human rights activists take pride in the fact that they have almost succeeded in implementing the "90-90-90" strategy: about 90% of covered sex workers know their status, 90% of HIV-positive sex workers have been registered – except migrants who "leave and register at their medical facilities back home," 90% of those in need of therapy have started getting it. The organization has its own support group for girls taking part in therapy.
Sex workers and migrants are the population's most vulnerable groups. It is quite easy to lure migrants into sex work.
Pokrovsky explains that sex workers and migrants are the population's most vulnerable groups. He says this is explained by the fact that often men and women in foreign countries get paid more for sex work than for unqualified labour.
The academic underlines the necessity of undertaking special work with these key groups: "They [migrants] can be completely unaware of problems and dangers related to sex work. They may come from remote rural places where they've never heard about HIV."
'Curtains' and the organized sex industry
Effective help for sex workers and preventative measures are impossible without integrating and working cooperatively with the organized sex industry. "Silver Rose" employees have established these connections, they've gotten "inside": into brothels and salons.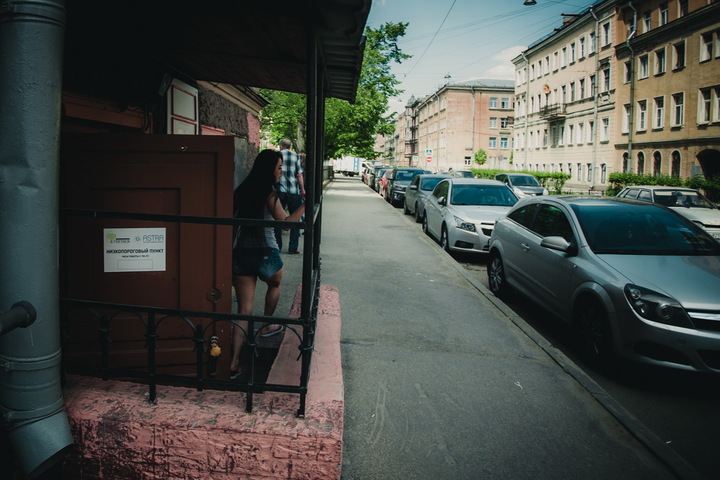 The sex industry is a complex system, it includes: the workers themselves, their drivers, guards, managers, advertisers, and owners – those whom they pay, who protect them. "Rose" has connections with trusted administrators at salons, who come and get the same condoms and lubricants for their workers.
"Из 1500 секс-работниц африканок, которые есть в Питере, 800 прошли через нас. И они все протестированы"
"Of 1500 African sex workers working in St. Petersburg, 800 have come through us," says Maslova of their work effectivity, "and they are all tested. Without connections and relationships [with businesses] we could have never achieved this result. Over the last two and a half years, there have only been two girls out of 800 to get infected. And in 2012, 20 out of 60 people tested positive. African girls come for condoms on their own. They take an appointment card to see a doctor, and they actually visit them. I have a gynecologist, she knows English and French, she worked for 5 years on a mission in Africa, she was the first gynecologist in the city I sent HIV-positive women to."
Five years ago, Mira (name has been changed – editor's note) arrived from Nigeria. She works in a small salon, she doesn't have many colleagues. Her clients: Russians, migrants, but mostly – Uzbeks.
"Yes, somebody shoots up, somebody sniffs cocaine, somebody smokes weed. Yes, and we see it all, it happens in front of our eyes. But don't think that we're all are like that," Mira says.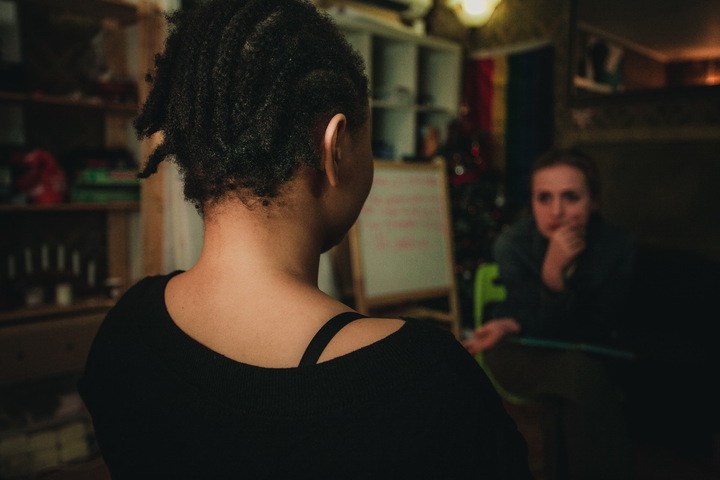 She learnt about "Silver Rose" a long time ago, about three years ago, when she was still working in another salon. And this year she started visiting a low-threshold center. Women who work here give Mira advice; they ask her if she has done a test, they regularly give out appointment cards.
Mira does not speak Russian well, so her native English has become our language of communication. But she understands the word "HIV" in Russian as well. Here she actively starts to participate in the conversation.
"I have been checked twice this year. All the women I work with, they do tests, but initially not all of them know about HIV. The administrators [of the salon] never asked me for a certificate. But I heard a story about one girl who was taken to the clubs for a night. And later they found she had a disease (not HIV) and she was asked to leave."
She always asks clients to use condoms, so Mira thinks she has nothing to worry about.
The service price starts at 500 rubles, each worker has 20-25 clients daily
Salons are divided by price category, by workers' and clients' nationalities, but most of them are mixed. An important achievement of the "Rose" activists is that in the past year they have gone behind the "curtains". These are semi-basement or basement spaces, where there are 20-30 beds divided one from another by curtains. One or two toilets, one shower. Mainly, these are oriented towards migrants. The service price starts at 500 rubles, each worker has 20-25 clients daily.
Those who are not in the business ("individuals") also come to the "Rose" for help. But there are never many of them – no more than 10% of the total number of workers. As they are used to living on their own, what's more important for them is not condoms and lubricants, but safe spaces, acceptance, psychologists, and lawyers.
'For the bazaar' and dumping in sex work
According to the employees of the Silver Rose, up to half of all the workers are migrants.
The geography looks like this: most women are from Uzbekistan, many are from the Ukraine, Nigeria, Congo, and Kenya. Very few are from Belarus, Kazakhstan, and Kyrgyzstan. There are no girls at all from Tajikistan, Azerbaijan or North Caucasus.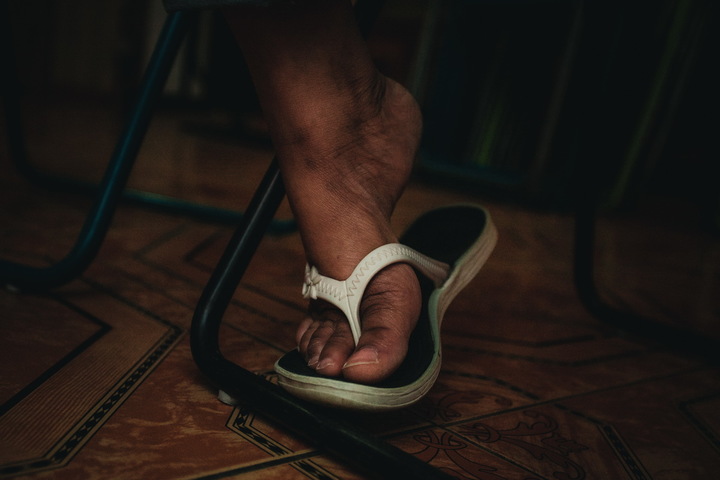 The public organization explains the distribution of countries in the following way: people are coming from the post-Soviet space, because all of us have a common language – Russian. African girls consider Russia a civilized country where they can legalize themselves.
"Sex services 'for the bazaar' are very common in Uzbekistan. They involve services in exchange not for money, but for food"
"Sex services 'for the bazaar' are very common in Uzbekistan," says Maslova, "a man doesn't pay a woman, instead, he takes her to bazaar and buys her food and groceries."
When lots of Uzbek girls started arriving in St. Petersburg, they lowered the prices for sex services. And now the average price is 1500 rubles per hour. Salons charging 2500-3000 rubles are rare now, and 5000 rubles is almost beyond the limit. Even though salons usually work on a "50/50" model, so half the money goes to the place's owners. A harsh inter-ethnic conflict started to emerge in the background between Uzbek and Russian girls, but the Silver Rose prevented it from breaking out with talks and explanations.
Feruza (name has been changed – editor's note) has been working since she came to Russia from Uzbekistan. She couldn't find any legal job, and if there was an offer, then she was paid pennies, and it was impossible to survive on that income. Two years ago, Feruza's friend gave her the phone number of a salon administrator.
Unlike most of her compatriots, Feruza isn't afraid to meet "her men" at all. "It seems to me that men from Uzbekistan don't care at all, they came here to work. What their compatriots are doing here is none of their business."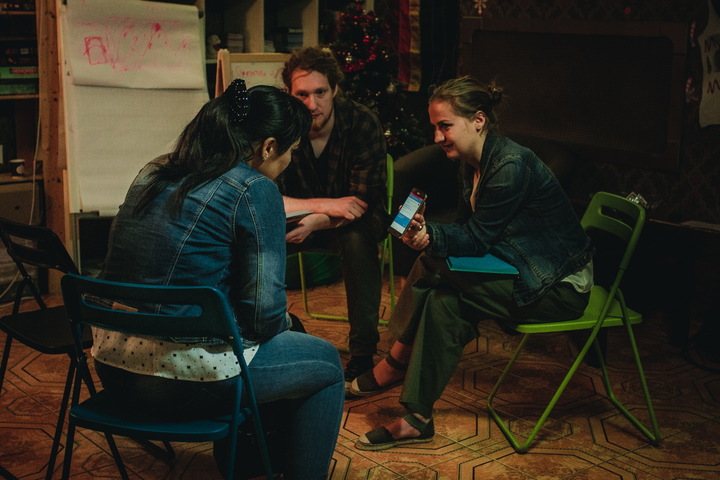 Feruza has been visiting the Rose for a long time, primarily for psychological and moral support. Moreover, here they give out condoms, appointment cards, they also do tests, send clients to trusted doctors at public clinics.
As a rule, "newbies" appear once a month. Mostly they are students or people looking to make extra money on the side.
Feruza's clients have never talked about their HIV status. Feruza knows that infections are not transmitted through the air, but if a female colleague gets tested, she feels better: "All the same we all sleep, eat, and work in the same space."
"Newbies" in the salons are taught how the virus is transmitted, what to do in the case of unprotected contact. They are told about post-exposure prevention. As a rule, "newbies" appear once a month, mostly they are students or people looking to make extra money on the side.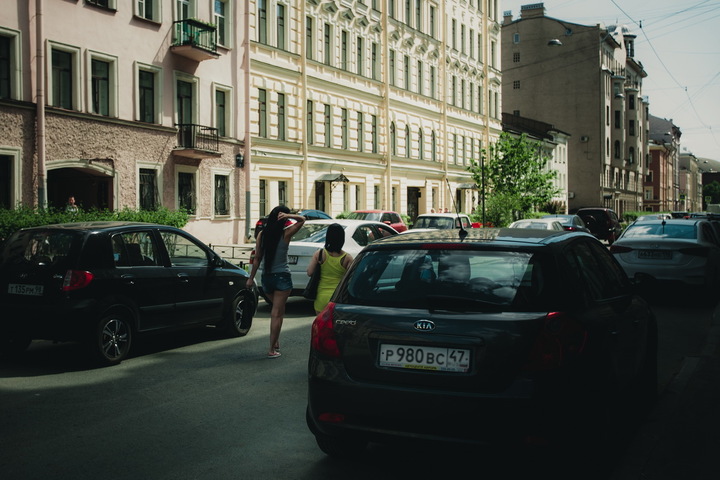 Feruza has never been asked to have sex "without a condom". Many openly claim that they have a medical certificate. But Feruza thinks that only those who are avid to make some money and don't care about their own health agree.
"Baby, tell me how you put on a condom":
The organization underlines that the level of HIV transmission is higher in low-budget brothels oriented towards working migrants.
They've got problems with documents, residence permits, job permissions. Due to which they also have problems getting medical treatment and anti-retroviral therapy. They work with migrants on accepting the diagnosis. For many of them, getting HIV is a huge shock, causing problems and questions. They still have to return home and get therapy there. But what do they say at home?
The tangle of problems is further exacerbated by the low level of sexual literacy, fear of any system (including the medical system), and fear of social judgement.
To our question about the level of sexual literacy, Maslova, saying "let me show you," leads us to an appointment room, takes down a big blue box upholstered with soft cloth from the windowsill. In one wall of the box is a large, heart-shaped hole, and a dildo is fastened inside.
"For the third client on a given day there is no natural vaginal lubricant left. And then any sexual act becomes traumatic."
"We start from the very basics: "Baby, tell me how you put on a condom?" And on this wonderful note you realize that 30% of girls don't know how to put a condom on properly, they haven't had any sexual education at all. And next you ask: 'Do you even use lubricant?' And then you explains that for the third client on a given day, there's no natural lube left. And then any sexual act becomes traumatic. Any infection can get through those microcracks. For Uzbek girls there's another nuance: they keep their virginity. And all the services she provides are anal."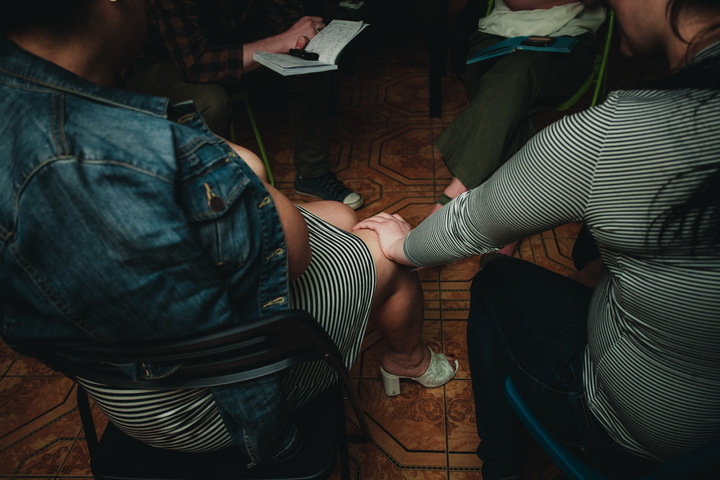 Two women who have agreed to talk with journalists are coming to the Rose's basement. Both of them have arrived from Uzbekistan, they spent long time talking to a photographer, they don't want their moles to be visible in images.
Sonya (name has been changed) was born in Andijan, but she grew up in Altai, then moved to St. Petersburg three years ago. She started working as a cleaner. A flat owner offered her sex for money for the first time. She started spending her spare time in a salon where she was paid 2500 rubles each time. Later she had to leave that salon – she met an acquaintance. At that moment she was married, she had children and didn't want them to know about it. She moved to a "cheaper" office.
She has an official job at the supermarket Dixi and comes to the salon twice a week. She calls it a "flexible schedule". Sonya makes the following conclusion about her work: "You're getting high and also you're also getting paid for that (laughs). And excess money just doesn't exist. Especially now. I got a divorce, and I have to feed my child."
Sonya often has prevention talks with her younger colleagues, because few of them know what HIV is, and many of them agree to having sex without a condom. Sonya hosts meetings: "Don't give it to them without a condom! Suppositories and Chlorhexidine won't help you later. Girls, it's me who is 39 now, and you are young, you've got your whole lives ahead of you."
As a rule, clients do not care about the girl's HIV status. One client was trying to persuade Sonya that it was safe to have sex without a condom: "Come on, I've only got my wife at home and you, there's nobody else!"
"I'm very good at genetics."
HIV activists often have communication problems as well. As employees at the Silver Rose note, if Uzbekistan girls are younger than 20 years, they usually speak Russian poorly. Several Uzbek girl-workers play the role of voluntary interpreters. It is easier to explain something to an Uzbek girl than to an African girl. According to the organization's employees, they sometimes have to use words like: "Pussy, doctor, need?" Everybody know what "pussy" and "doctor" are.
"Pussy, doctor, need?"
Maslova asks rhetorically: "Is there a doctor in the state system who will be ready to receive them and speak their language? No! That is why community-based work can only be performed by the community itself. Do you know who the best motivator is for using condoms? Those who got HIV when a client took off their condom." She adds that she still has never met a single sex worker who would propose unprotected sex to a client. It is all the client's initiative.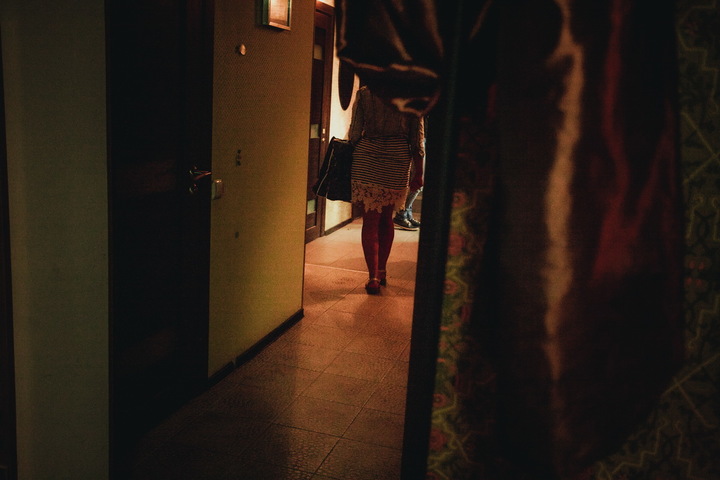 We had a misunderstanding with one worker who didn't speak Russian. Using Google Translate, we translated the question: "Do you know what HIV is?" She translated back from Uzbek to Russian: "I'm very good at genetics." The dialogue then hit a dead-end.
At first Nargiza (name has been changed – editor's note) agreed to talk to journalists, but then she told us she would only speak in a mask. She doesn't want to be seen by her husband. She is scared of a lot of things, she comes to the organization only by taxi. She says she works in the industry only out of need.
Police sweeps and neo-Nazi attacks.
Human rights activists were expecting sex worker "sweeps" before the FIFA World Cup. Maslova draws a comparison with the city "sweeps" that took place before the 300th anniversary of St. Petersburg: "Street girls were taken to the region, stripped down, left in the woods, beaten or killed. Those were acts of intimidation. We're always building Potemkin-like villages, we have to make everything look beautiful."
Now the city is fighting with advertising for sex services, closing websites on the Internet and specialized magazines, painting over ads on the roads. According to employees at the Rose, city administration has joined the fight, putting a dial tone on up to 500 salon phone numbers daily. But after blocking sites in the Internet, ads crawl out offline again: on the street, on fences, sidewalks and drainpipes, according to the Rose.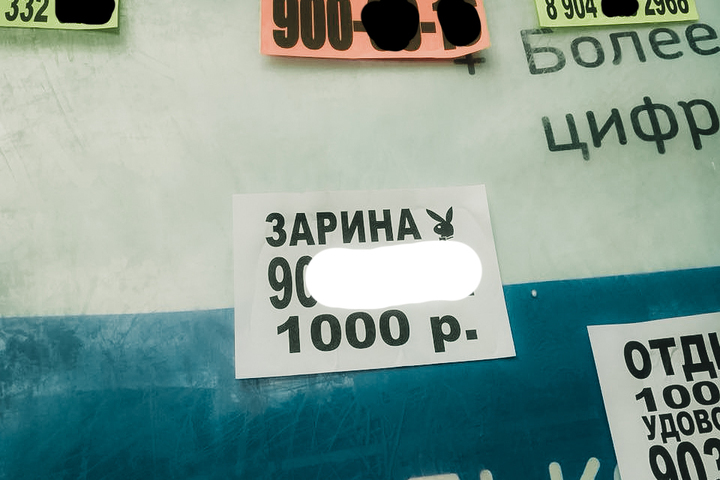 Another serious problem for sex workers is the odious criminal and ex-MMA figher Vyacheslav Datsik and his followers – neo-Nazis. On May 18, 2016, Datsik and several activists stormed into a salon on Vasilevsky island and with threats forced 11 naked workers and one client to walk to the police office.
"May 18, 2016 shook me really hard," Maslova remembers, "I realized that Nazism had entered my city. We were fighting to the death. The day before the trial I didn't really know how it would end and if I would ever get home. I had the feeling that there was no tomorrow. I understood: we are either broken or we bear it out. I know how scary it was for the girls to testify. When we arrived for the reading of the sentence. There was a crowd in front of the panel: half of the people were our girls, the other half were young Nazis aged 16 to 20 with absolutely empty eyes. Guards removed 18 knives from them."
At one point Feruza worked in a salon that got raided. As she tells it, Dagestanis are the main ones to conduct raids in Petersburg: they come as clients, but someone has a knife, someone has a gun, they start screaming, getting everyone on the floor. Then they take away money, jewelery, other valuable things, and leave. There were two raids on the first salon, the administrator told them to do nothing and under no circumstances to go to police: it's all over, everybody's alive, and that's fine.
Another serious problem for sex workers is the odious criminal and ex-MMA figher Vyacheslav Datsik.
After the accident, Feruza moved to another salon, and that is exactly where Datsik later came. At first, two people entered her new place of work as ordinary clients. Then they saw on the monitor that reinforcements were coming, they called for police, but as policemen came and saw Datsik, they turned around and left. Several girls tried to get into their car to somehow secure themselves, but policemen only locked the car doors. Feruza and colleagues callled for a second police detail. When the second police car arrived, Datsik said with confidence: "I am already taking the prostitutes to the station."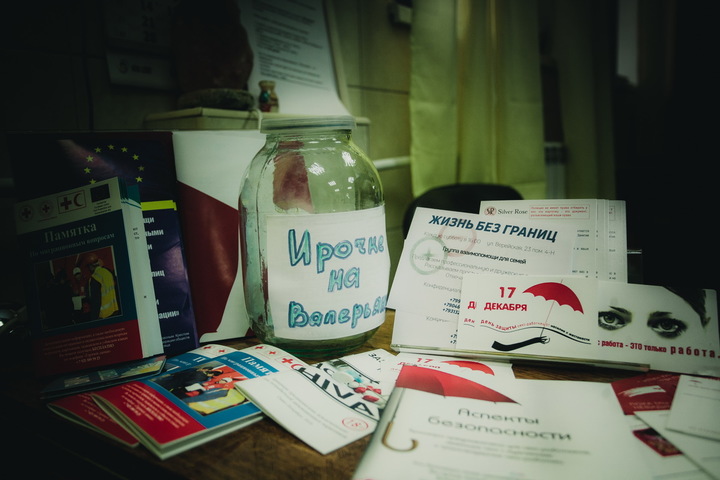 Feruza remembers that moment: "We were walking on foot. I was extremely ashamed, because some of the shops were still open, restaurants, people were watching from their windows, someone was filming on a camera, someone was saying: 'That's right, that's the way'. Someone was shocked. We were delivered to one police station, then they took us to another. Policemen were laughing, making cruel jokes. No sympathy. We couldn't cover ourselves, nothing. We were put in one room, there wasn't even any water. The only thing they allowed us to do was smoke, and that's all. Then the salon manager got us sheets. We went into the interrogations in sheets. And in the morning the Silver Rose brought us clothes and food for everyone, later lawyers arrived. I went to trial, testified. Many were scared of trials, testimonies, even a second interrogation. They denied it. Because it is scary. Because addresses are recorded and someone leaked the information."
As a result, Datsik was sentenced to just 3.5 years, and he has already spent 2 years in prison. But according to Feruza, raids on the salons are still taking place: either Nazis attack, or Tajiks, or Dagestanis rob them.
The Rose prepares information sheets on how to deal with the police. Employees tell workers about Article 51 of the Constitution, because many people do not know they have the right to not testify against themselves.
"Their [Datsik's followers'] actions show pure greed, and all their statements are just PR. Datsik 'fights against' AIDS, so I was shocked by the fact that AIDS-service organizations didn't support us in our struggle with him. As you can see, he now fights against prostitutes, but you will be next," the head of the Rose concludes.
We are not your salvation project
Members of the sex workers movement believe that in order to prevent HIV among migrants, a foundation must be established to provide them with a full range of services: from testing to treatment. Closing borders is impossible, and the right to healthcare lies at the basis of other civil rights. Therefore the organization is convinced that HIV prevention work must run parallel to human dignity. In their opinion, HIV prevention should be based on the "triune system": the service part includes prevention, overcoming legal barriers, and strengthening of the community itself.
"The most effective way to fight the spread of STIs is to legalize prostitution"
Pokrovsky lists the following measures in the fight against the spread of HIV: basic prevention work among the population; additional education on how not to get infected with HIV for "all migrants entering our country". Aside from this, direct work with sex workers is necessary, but made "really difficult" due to the number of different workers: if a person works on the streets, then we should conduct outreach and go out to their places of work. There is also another risk for sex workers – drug use.
"Certainly we need to find a way to work with organized prostitution too," Pokrovsky continues, "The organizations themselves should be interested in reducing their clients' and workers' risk of infection. But the most effective way to fight the spread of STIs is to legalize prostitution. Implementing measures that would allow us to provide medical services to this community."
The Rose emphasizes that no prevention work is conducted in Russia due to the existence of two articles: "Prostitution" and "Receiving income from prostitution if the income is connected with the other person involved in the act of prostitution".
"While all this is illegal, the state won't be doing prevention work among the criminals, and we are considered criminal," Maslova argues. "They [officials] barely give out presidential grants and city subsidies for prevention work at detention centers and testing. But the state cannot recognize the necessity of support and effective high-quality prevention programmes among some prostitutes."
The Rose's human rights activists are sure that the administrative article creates a whole layer of problems, including lack of access to medical services, contraception and legal protection. They stand for high-quality prevention based on scientifically verified data. But all prevention work starts by extending the rights and abilities of the community itself, among drug addicts and MSM-community, as well as migrants and sex workers.
Pokrovsky gives the example of Germany. In order to obtain permission to work in the sex industry there, you have to have the relevant education. And for violating the epidemiological regimen they can even take away this permission.
"We are not your salvation project, we don't need to be saved," explains the head of the Silver Rose. "Those who come here receive the services provided by the project and take tests, so that they can decide [for themselves] about their own lives. If you turn a human into a victim, then you are depriving that person of the ability to make their own decisions about everything in their life. You can't work with people on the basis of the saviour triangle. You should rescue only those chained to a radiator, those in an unconscious state or children. And I've never encountered anything like that in 15 years of my work. You cannot do anything effectively by taking the 'above' position (when a 'rescuer' puts themself above the 'victim')."