The Outskirts of St.Petersburg. Evening time. Ordinary bedroom suburb: faceless high-rise buildings, shopping malls. About a kilometre away is an abandoned building formerly used as a cinema. A battered blue bus is parked nearby. From time to time, some people get in through the rear doors.
– Hi! What "guns" do you need? 2 ml, 1 ml? You got any dirty ones? Throw them in the basket.
The man pulls out several syringes and needles out of his plastic bag and places them in a special bucket. Just like in a drug store; he explains that he needs some ointment, wipes and new syringes.
Explosions and Cop Hats
This is the bus of the charitable fund Humanitarian Action — an organisation engaged in an HIV preventive treatment and harm-reduction programme in St. Petersburg since 1997.
The non-profit organization now owns three similar buses: two minibuses for outreaching drug users and sex workers by moving from one location to another and offering HIV tests to the wider population; and one larger (blue) bus that patrols areas that have the largest number of drug addicts. As a rule, their regular offtakers help them find their "clients".
In addition to the "reception desk", the blue bus also has two offices where you can talk to a psychologist, get tested and consult a doctor.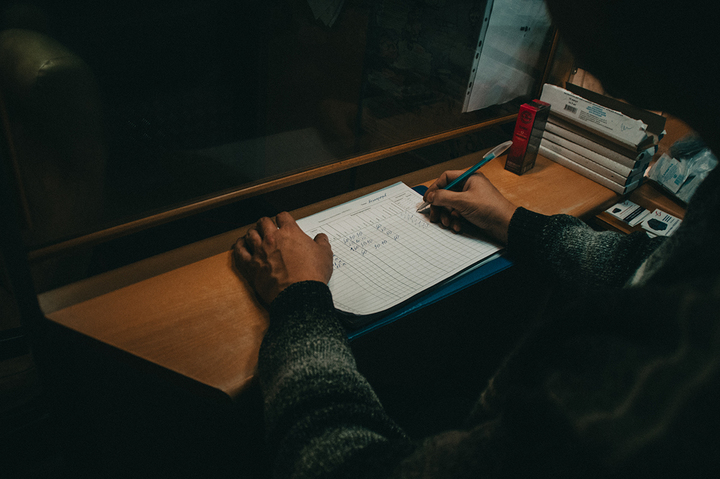 The bus kitchen includes: a table, a few chairs, a stove with a gas bottle, a heating system, hangers, and even a toilet. All this was done by the Fund's employees themselves.
Helen is a local old-timer who's been working at the Fund for more than twenty years since it was founded. She shows a badge with a picture of a half-burnt bus – the Fund's very first bus (the current bus is already its third), with the date stamped just like on a memorial board: 20/01/1997 – 11/05/1999.
While parked next to a building one night in 1999, the bus was set on fire. However, it didn't burn to ashes that time. The next morning, they trailed it to the nearest parking lot; the next day, some unidentified thugs attacked the bus again, blowing it up.
During the first several years, the police regularly attempted to prevent the bus team from working, and the traffic police kept on stopping the bus. Then the employees parked the bus, removed the number plates and lived in it for a month. In another instance, the police broke in with machine guns.
This is how they worked
Olga enters the bus. She looks about 50 years old, with an open and relaxed face, wearing a cute casual jacket. She announces that she is going to tell "everything as it is, no lies", but begins with hiding her hands with blood-red swollen fingers — a common identifier of a drug addict.
She is 43 now, and has been on the junk since 16. She has been coming to the bus for over a year since she first heard about it. She lives nearby, right off the street, and it's convenient for her. She first receives psychological help in the bus:
"You may grab brochures on HIV and AIDS, then we can help you go through rehab, and you can be supported in court. Well, you may also take syringes, vitamins, sterile wipes, ointments and water for injections. And of course, naloxone (the antidote that blocks opioid receptors during an overdosage — editor's note)."