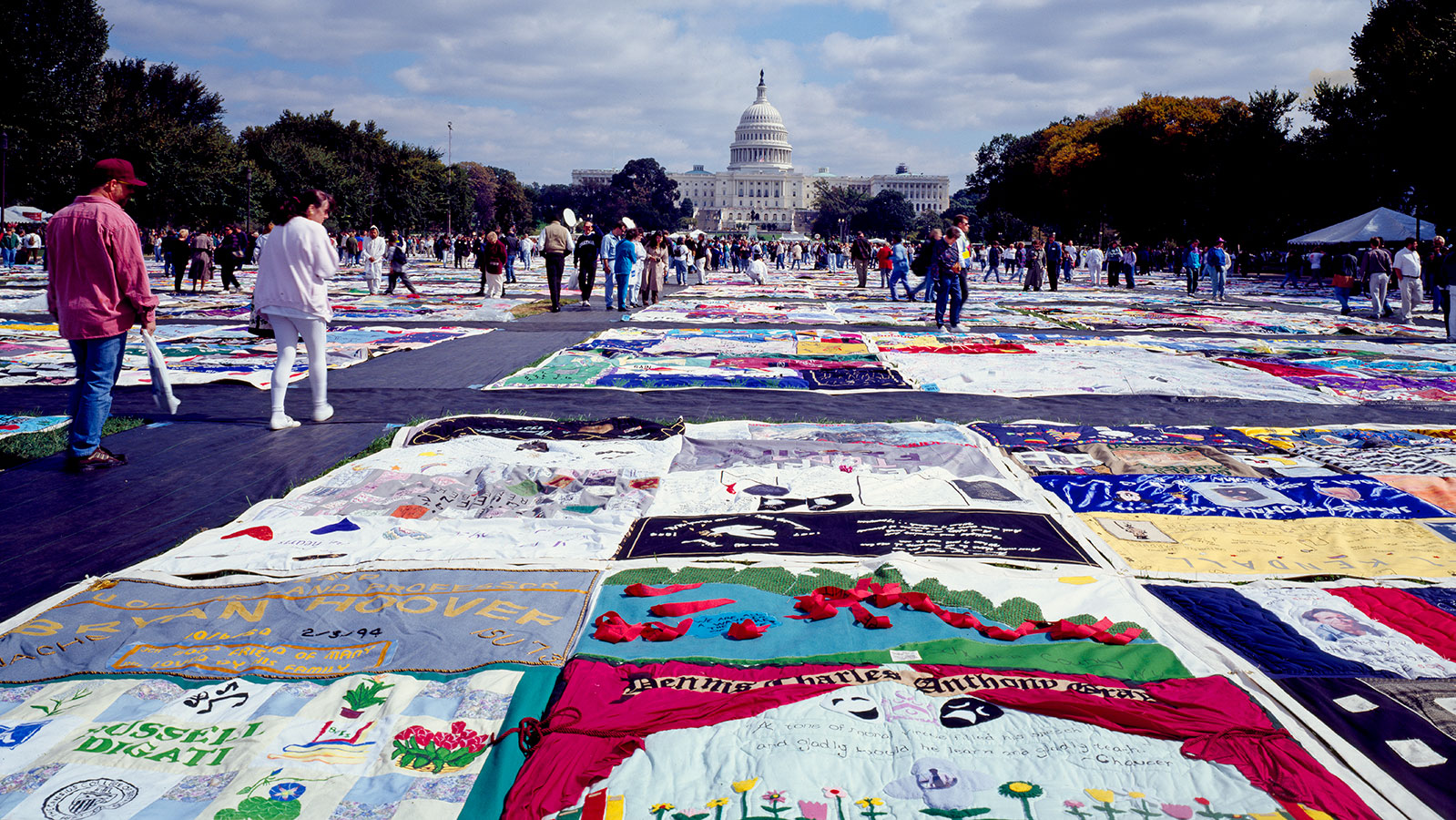 Society
Memorial Quilt. How a patchwork blanket has changed the AIDS pandemic
Since the beginning of the AIDS pandemic, an estimated 25-49 million people have died of related causes. This data was provided by the UNAIDS—United Nations Programme on the fight against human immunodeficiency virus and acquired immune deficiency syndrome (HIV/AIDS).
Over the past few decades, the disease has changed almost all areas of life: from science and economy to sex and culture. And thus, it has changed the whole conversation about HIV-positive people, who are often treated like lepers: they are avoided, condemned, discriminated, even on a legislative level.
Memorial quilts have a special place in the history of the AIDS pandemic. They have not only become a reminder but, in some ways, memorials to people who died of the disease.
A quilt is a traditional textile with batting, the front side of which is made using patchwork and appliqué techniques . However, with the development of HIV activism, people have started to sew patches with symbols and names of AIDS victims onto quilts.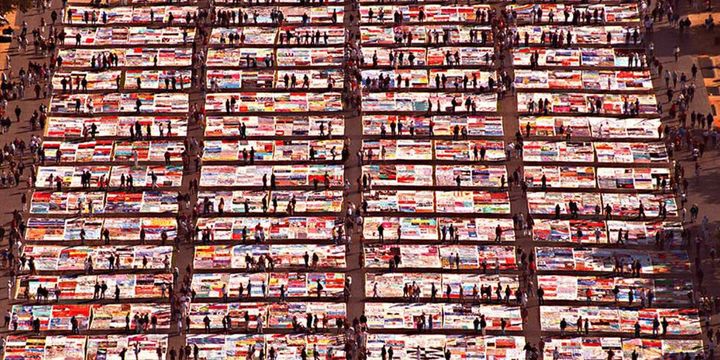 An exhibition of memorial quilts organised by the NAMES Project Foundation and AIDS Memorial Quilt takes place annually in many states of the US. They show society how many men, women, and children died during the epidemic, when antiretroviral therapy had not yet been developed or was not as effective as it is now. Every year, the foundation displays nearly 1,000 quilts in schools, universities, corporations, community centres, and galleries of the US to humanise the statistics of AIDS victims and to transform them into a memory of every particular person.
AIDS.CENTER recalled the history of Memorial Quilts, and talked to participants of the first quilt exhibition in Russia.
How an ordinary blanket has become meaningful
The history of patched blankets started long before European settlers arrived in the New World. Originally, the concept of such a textile came to Europe from the East – in the 16th century, colourful fabrics with various patterns and made from Indian cotton began to flow into England. Bed covers with oriental embroidery were considered a fashionable decoration for home interior. Quilts started to be produced in factories and were available till 1712, when Indian fabrics were banned in England to facilitate the development of domestic textile mills manufacturing local fabrics. That is why local women began to sew scarce pieces of fabric together.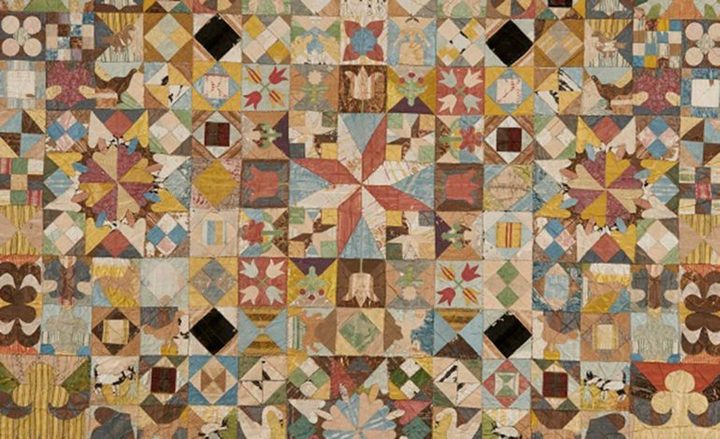 In America, quilts appeared with the arrival of the first settlers. However, it was the American craftsmen who took this technique to the heights we know today. It was hardly important for settlers that fabrics were Indian. When there was lack of money and textile import was restricted, women had to improvise by using the available materials to create warm clothes for the cold season. The practice of saving up remaining shreds of cloth resulted in a special type of blankets – patchwork.
In the USA, quilts have acquired a patriotic connotation and have become one of the national applied arts. Since the beginning of the 19th century, American women have regularly turned to quilting to state their political and patriotic views. For example, in the 19th century, women sewed quilts called "Alabama Gunboats". These particular blankets were sold at the fair, and all the money made from sales was spent on the purchase of gunboats to protect coastal cities of Alabama during the Civil War.
In the next century, the tradition to mention victims of war by using names and various symbols on quilts started. For example, during World War I and World War II, families of soldiers created the so-called "Gold Star Mothers" quilts, which contained patches with the names of those who died. Military symbols and other artefacts of that time could also be used there. Later, the tradition to honour soldiers deceased during the Korean and the Vietnam wars arose.
Furthermore, much like a hobby club, patchwork quilts would bring women together. Whilst quilting, they would meet new people and bond with other families. Quilting helped them go through the loss of their relatives together and support each other. These side effects of quilting in the US became relevant again for a new, sad reason – the AIDS epidemic outbreak in the late 1980s.
AIDS Activism and Quilting
The idea to create a quilt as a memorial to AIDS victims was conceived in 1985 by Cleve Jones, a gay activist from San Francisco. He was planning another annual march in remembrance of Harvey Milk (a politician and LGBT activist) and ex-Mayor of San Francisco George Moscone, who were killed by their colleague from the administration. At the time, Cleve Jones knew that over 1,000 people in the city had already died of AIDS-related causes. So he asked participants of the march to write the names of their relatives and acquaintances killed by the disease on placards. At the end of the march, everyone started taping those placards to the walls of the San Francisco Federal Building. Taped together, they looked like a patchwork quilt. That is how Jones came up with the idea to create a large, self-made memorial.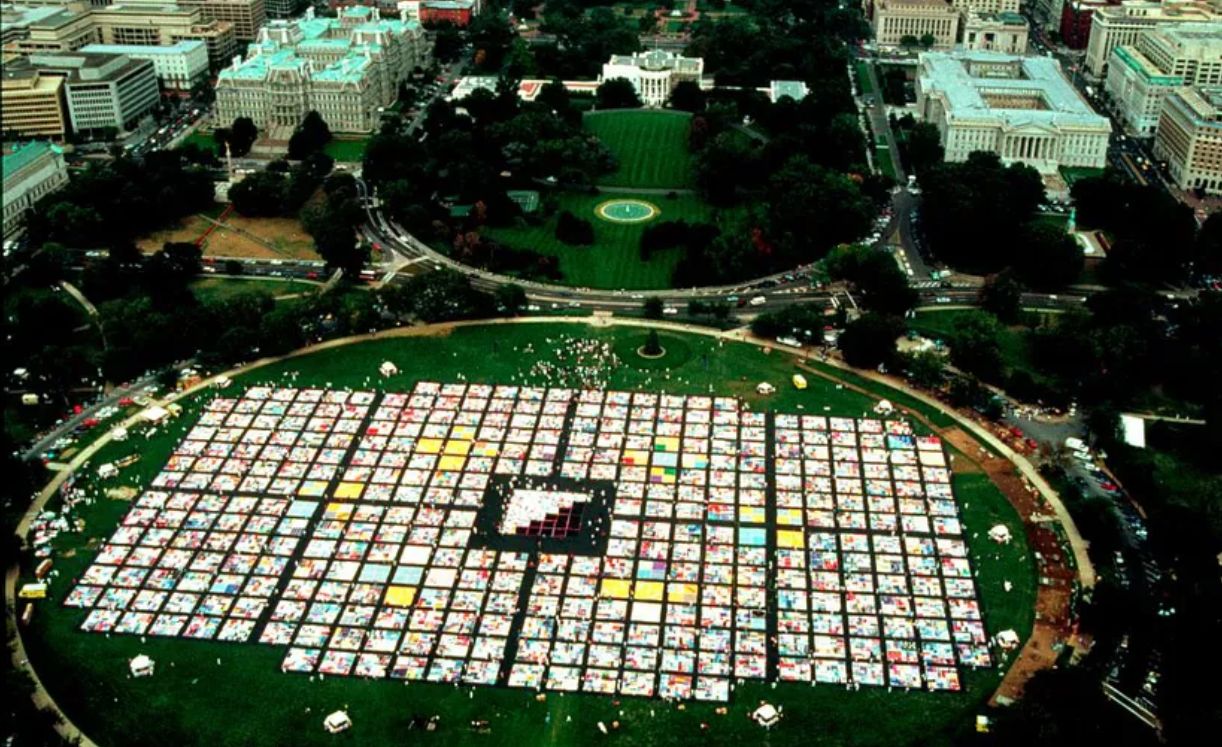 In 1986, he created the first quilt panel in memory of his friend, who died of AIDS. The following year, Jones and his like-minded people established the NAMES Project Foundation. Other major cities of the USA, such as New York and Los Angeles, picked up on the initiative and sent their works to San Francisco, while concerned donors provided the Foundation with sewing machines and other materials used to create blankets.
The first large-scale display of the memorial quilt took place at the National Mall in Washington, D.C., during the National March for Lesbian and Gay Rights. The exhibition spanned the size of a football field and included 1,920 panels. Over half a million people visited the Quilt exhibition in the first two days.
In 1987, quilts were placed in front of the White House. Celebrities, politicians, families and friends of the deceased joined the movement. They read aloud the names of those to whom their panels were dedicated. By 1992, the memorial included blankets from every state and twenty-eight countries.
The last display of the entire Quilt in the USA took place in October 1996 at the National Mall in Washington, D.C., when the whole area was covered with various panels with the names of the deceased.
Among those who visited the Quilt was the 42nd president of the United States, Bill Clinton.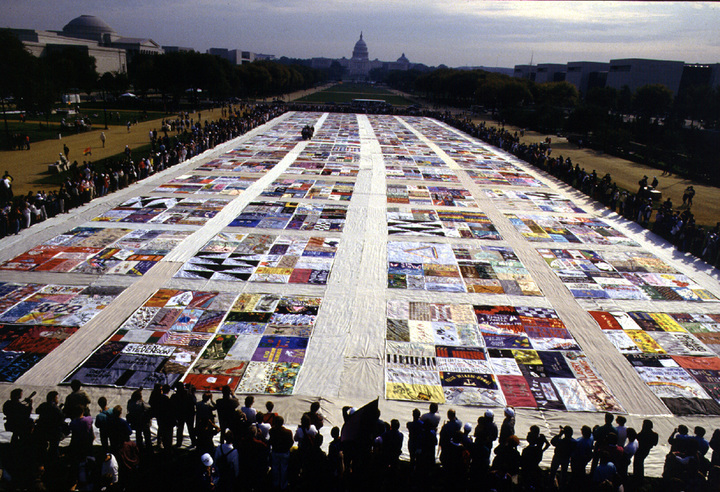 Since 1987, displays with the name patchwork quilts have been visited by over 14 million people. In 1989, the AIDS Memorial Quilt was nominated for the Nobel Peace Prize. Patchwork quilts have become an integral part of culture, including popular culture.
In the USA, the AIDS Memorial Quilt has taken care of saving the memory of every single patch that preserves someone's story. To date, over 48,000 patches have been photographed and digitised. All of them are available on the website and accompanied by letters, biographies, and photos.
Quilts in Russia
There was also a quilt movement in Russia, though it did not last long. It was initiated by HIV activist Nikolai Nedzelsky, after he became a representative of the Russian Names Foundation. He died in 2015. His former colleagues at the Moscow quilt exhibition told AIDS.CENTER about the first name patchwork quilts in Russia.
Mekhty Alizadeh, specialist in non-medical service development in the field of HIV/AIDS
The first major quilt display in Russia was Euro Quilt Tour 1999—organised by the Names Foundation. Quilts from all over Eastern Europe were collected in Moscow, and then a tour around the cities of this region was arranged. Two years after the event, I joined the team of Nikolai [Nedzelsky].
We decided to hold the first exhibition in Moscow in 2005, which unfortunately turned out to be the last one. We needed to find a large empty space with a good security system. At the time, the Paveletsky station had just been renovated, and the second floor was granted to us. We placed quilts around the area and assigned volunteers who distributed booklets and invitations. The display would be supplemented with new quilts. We used foreign quilts as well in an effort to show the global character of the problem.
Quilts have become an opportunity to get through the pain of loss and to do something in memory of the person. Many people sewed personal items or scraps of clothes onto patches. They designed symbols associated with the deceased, for example, certain animals or flowers. Most surprisingly, some random guests came out during the exhibition. They were ordinary people who were just passing by, and the issue resonated with them.
Once, three guys drinking beer walked up to our volunteer girls. I was wary. I wanted to invite them to the exhibition, but without the beer. And then I looked at one of them, and I suddenly saw his face change. Then he seperated himself from his friends, came to me, and told his story. Call-up for military service, a subpoena, medical tests. That is how he found out he had HIV. And the volunteers were the first ones with whom he shared that discovery.
There was another story. A man from the Far East came to us. He used to be a drama theatre actor and absolutely loved his job, but he was kicked out when his HIV-positive status was revealed.
At that time, antiretroviral therapy had just become available in Moscow, so he had to move there. But he arrived too late, and the therapy did not help. He died. The Names Foundation decided to make a quilt in his honour and called to the theatre where he used to work. The theatre director sympathised with his story and donated curtains from a play, in which the actor used to take part, for the quilt.
A quilt can sometimes serve as an opportunity to tell people about a person as if there were a memorial service where relatives would gather to talk about the deceased. It is an opportunity to bring back memories of the person by doing something.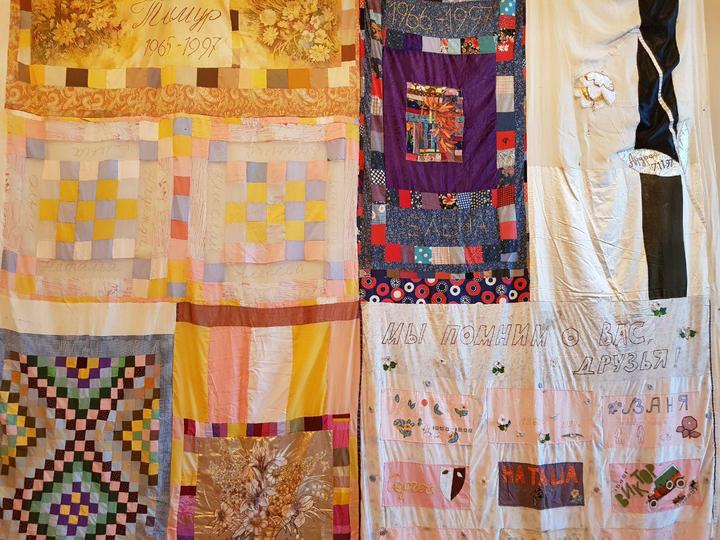 Marina Nikolayeva, specialist in non-medical service development in the field of HIV/AIDS
I was one of the volunteers at Paveletsky station. People who came to the exhibition looked at our booklets and got scared, thinking that AIDS means the end.
Some of them lose perception of things: they start reading names, get frightened, and then can't look at anything else. There were portraits of people near the panels, who spoke out on HIV and AIDS activism: there were both HIV-positive and HIV-negative people, as well as volunteers.
Our volunteer was standing next to his portrait when a man came to him and said: "My God, I feel so sorry for them! All of them died of AIDS!" He was so shocked that he couldn't even read the comment below the photo and see the volunteer from the photo standing next to him—alive and well. Many visitors perceived them all as marked for death from the start.
Unfortunately, quilting as a psychological tool to overcome pain and leave something in memory of the deceased is now a thing of the past, even though needlework is popular nowadays. Quilting is a somewhat archaic phenomenon that has lost all its significance. It has become irrelevant even for many activists who don't want to do that anymore. But I believe that quilting will be reborn. There is now an AIDS epidemic in Russia, and people still die. They will not be able to hide their pain for long.
For some volunteers, the exhibition has become the first step towards HIV activism. They have since joined foundations and other NGOs. But, unfortunately, none of us continued with the exhibitions. We shared the panels: my husband and I have a couple of them, others are kept by the Steps Foundation and AIDS.CENTER, where the panels are hung. We change them from time to time.
Creating quilts is a culture. It needs to be maintained by at least one very enthusiastic person. Nikolai was such a person, but he passed away. There are no new leaders yet. Quilts have become a part of history, just like pagers were actively used before mobile phones appeared, and then people just forgot about them because they did not need them any more.